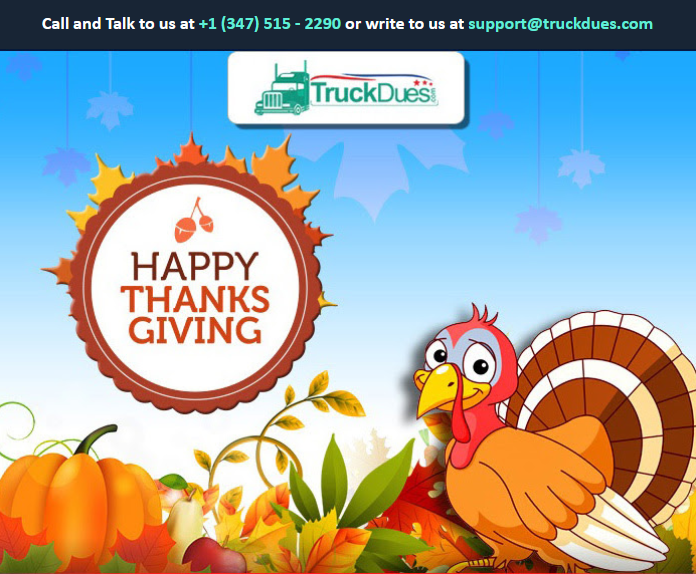 Yeah, it's Thanksgiving, The Much awaited day probably the best weekend of the year. It's the time to share and care with our beloved ones and be grateful for what we have and appreciate what life has given to us. Prayers to gifts, from hosting a humble dinner to spending time with your family it all happens on this day. A day at peace long away from hectic regular work and relaxation is all that we need and what else could we expect on this day. Freshly pluck flowers and fresh-baked cookies not to mention the pumpkin pie and the specially made turkey.
It's time to sit around the table and share love and happiness as this year had been so lonely as we faced a pandemic and keeping people apart. If not meeting your loved once you can always call them over a video call and share the happiness of life to be gifted and safe during the pandemic.
At this thanksgiving we are happy to share our time to thank our Truck Drivers who takes our nation's needs forward by leaving their family behind during the pandemic to meet the nation's needs. On this Thanksgiving as a way to exhibit our Gratitude, let's say Thanks to a Truck Driver for their service. At TruckDues.com we wish our Truckers of America and everyone a Happy Thanksgiving!
At this time we would also like to remind our dear Truckers about the upcoming HVUT tax deadline by November 30, 2020, for vehicles first used since October 2020. to be filed by the last day of the month following the month of its first use. Reach our tax experts at (347) 515-2290 for your Filing needs and also you may drop us an email at support@truckdues.com as we are happy to assist you relating to your Form 2290. Leave the filing to us and you have a wonderful Thanksgiving weekend.