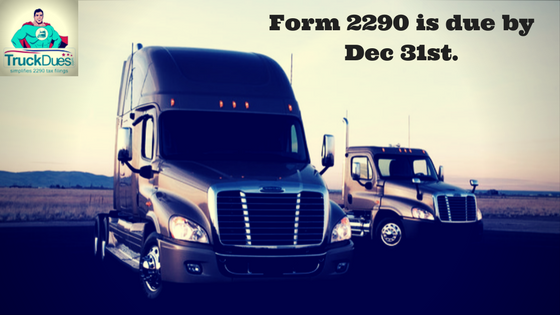 Hello there truckers, How's it going. Well you might be wondering if this article is about a HVUT deadline, the answer is a YES. Much as we'd all enjoy planning how to celebrate this Christmas Eve, we ought to stay aware of the HVUT tax deadline. Cause we got a near term tax deadline by Dec 31st   for vehicles first used in November 2017.
Having said that you might assume that you still got time until the end of the month before you E-File Form 2290 for vehicles first used since November 2017. However, the IRS has planned to shut down their e-file servers due to planned maintenance which has been scheduled to begin at Dec 26th, 2017.
During this maintenance period any e-filed tax returns will not be processed by the Internal Revenue Service until they officially resume their operations which is expected to happen during the 3rd week of January 2018.
Hence, we urge you to E-File your pro-rated HVUT returns as soon as you can before the scheduled maintenance period in order to avoid a delay in processing your tax returns. As this cost seriously cost your registration, tag purchase etc.
Form 2290 must be filed on a vehicle by the last day of the month following the month of its first use. On that basis Dec 31st will be the deadline to File & Pay 2290's on vehicles which are placed over the road since November 2017. Else, Form 2290 is annually due by June & its payable until the end of August.
Please feel free to reach our support team @ (347) 515-2290 [9. AM through 5 PM, Central Standard Time including weekends and all major federal holidays] or write us: support@truckdues.com or Live chat with our support team for instant help.