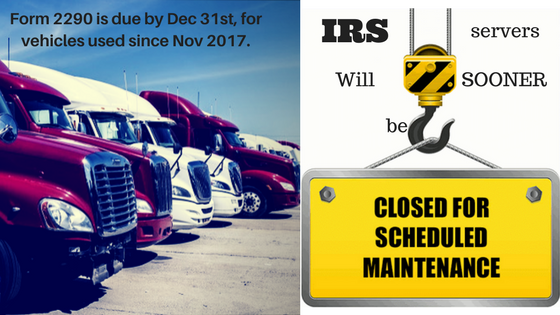 Hello there Truckers, Now through this article we're here with a piece of information for you. Every year during the Christmas eve, the IRS plans to shut down their e-file servers due to scheduled maintenance in a motive to basically upgrade their servers where it would allow them servers to process and accept future tax year's with no hassle (For the Period beginning July 1st, 2018 through June 30th, 2019).
During this maintenance period the IRS servers will not be able to process any tax returns up until the IRS officially resumes their operations until the 1st week of January 2018. Hence, we recommend our dear truckers not file tax returns during this period of time as it might place your tax returns on hold which might create unnecessary hindrance despite due time.
This year we expect the IRS to shut down their severs during the 3rd week of December 2017. Besides we haven't been informed by the IRS yet. So, we would not encourage our customers to E-File tax returns during this time instead we would ask them to File it way earlier than the scheduled maintenance time to receive an instant acknowledgement back from the Internal Revenue Service.
As per the IRS rules, Form 2290 must be filed on a vehicle by the last day of the month following the month of its first use. On that basis, Form 2290 is now due on vehicle which are into service since Nov 2017. Else, Form 2290 is generally an annual tax which is due by June and its payable until the end of August. So, if you had already filed your Form 2290 back in July of this year that will cover you until the end of June 2018 so this deadline alert might not shock you.
Please feel free to reach our support team @ (347) 515-2290 [9. AM through 5 PM, Central Standard Time including weekends and all major federal holidays] or write us: support@truckdues.com or Live chat with our support team for instant help.