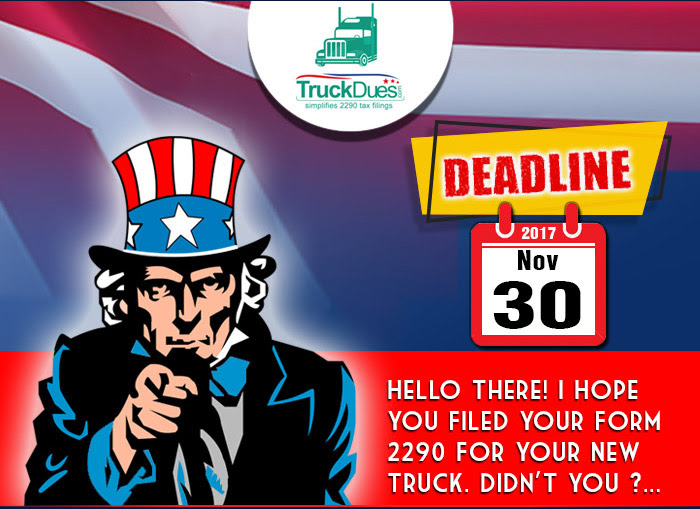 Hello there everyone, how was your thanksgiving holiday!  We hope this 2017 thanksgiving had brought you many blessings in your life more than the autumn flowers. Now in this article we would like to remind our dear truckers & trucking companies about the near term Form 2290 deadline, which is due by November 30th, 2017 for Vehicle which are in service since October 2017.
Form 2290 must be filed on a vehicle by the last day of the month following the month of its first use. On that basis Nov 30th will be the deadline to File & Pay 2290's on vehicles which are placed over the road since October 2017. Else, Form 2290 is annually due by June & its payable until the end of August.
So don't get yourself confused with this article, this reminder must be taken in consideration very seriously only if you had bought any new/used trucks during the month of October 2017. Else, you are still good until the next annual renewal which is due until July 2018.
Your mileage on the newly added truck really matters a lot as long as we speak about the IRS tax due. Only when you're truck would be used on the public highway over 5000 miles For commercial vehicles & 7500 miles in case of Agricultural vehicles during the period beginning October 2017 through June 2018, then you report the vehicle on a Form 2290 as a Taxable vehicle and make a pro-rated/Partial tax due payment to the Internal Revenue Service.
If you are very sure, that your truck might not exceed the 5000 miles or the 7500 miles range within the above mentioned time frame, it clearly means that you are basically exempt from paying taxes. In such cases, you are still required to report the truck on a Form 2290 to claim an exemption. So you must report the vehicle to be a Suspended vehicle and receive the IRS watermarked copy of Schedule 1 back in your e-mail indicating the truck's category as "W" for exemption.
Please feel free to reach our support team @ (347) 515-2290 [9. AM through 5 PM, Central Standard Time including weekends and all major federal holidays] or write us: support@truckdues.com or Live chat with our support team for instant help.