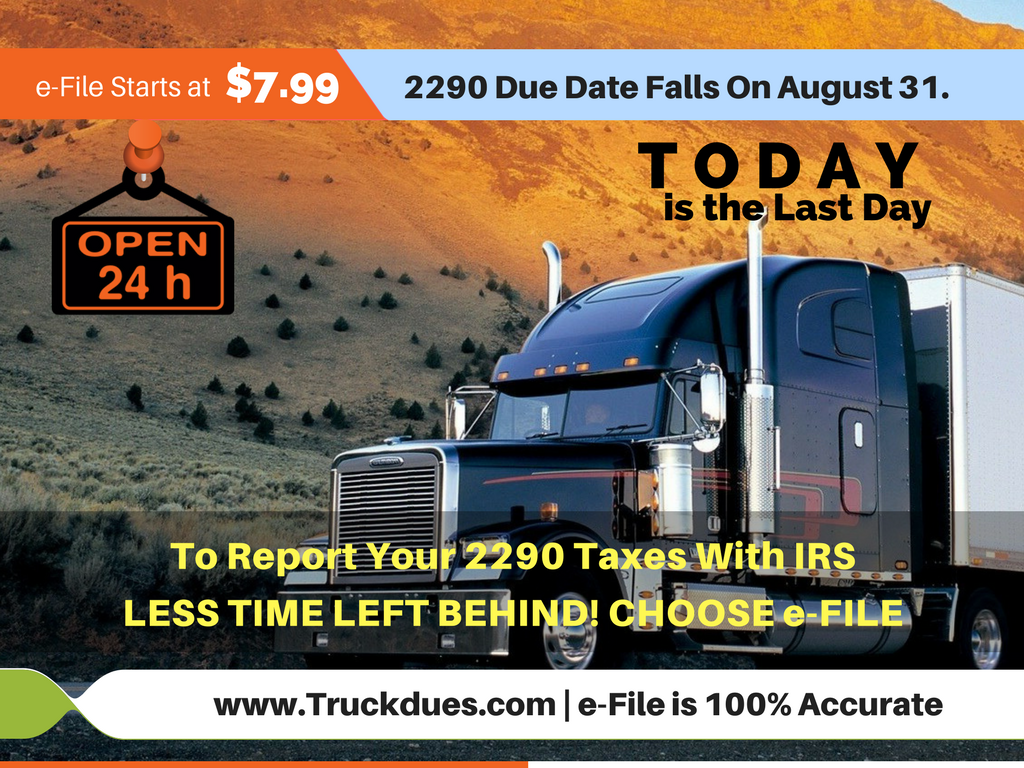 Less than a day to have your Form 2290 and Schedule-1 renewed with the IRS, August 31 is the due date. High time to get it  reported and renewed online in simple steps and fast process.
If you own and operate a heavy motor truck with a taxable gross weight of 55,000 pounds and more, your are liable to report and pay 2290 truck taxes. It is simple and easy when you do it online with TruckDues.com an IRS authorized e-file service provider.
Form 2290, the heavy highway vehicle use tax is a fee assessed annually on vehicles that operate on public highways. Form 2290 is reported and paid in full by August 31, today is the deadline to have this 2290s reported with the IRS.
Electronic filing automates your tax preparation, you just key in your vehicle details with the tax year and first used month, taxable gross weight along with your Vehicle Identification Number (VIN), your tax return is ready with inputs to file it with the IRS. It is simple and easy as 1-2-3..!
Electronic filing is the fastest way of filing your 2290 tax returns with the IRS, once you complete your tax return it is consolidated and sent to the IRS for processing. IRS verify the data and approves your Schedule-1 with an e-file watermark (stamp) which very well used as a proof for payment of taxes.
Delaying further would end up IRS audits, late fee and paying extra on top of your tax due. E-File is 100% accurate, fast, simple and secured. All the tax math happens automatically, 100% fast, IRS would process your 2290s immediately, and pushed to your email in-box once it is accepted.