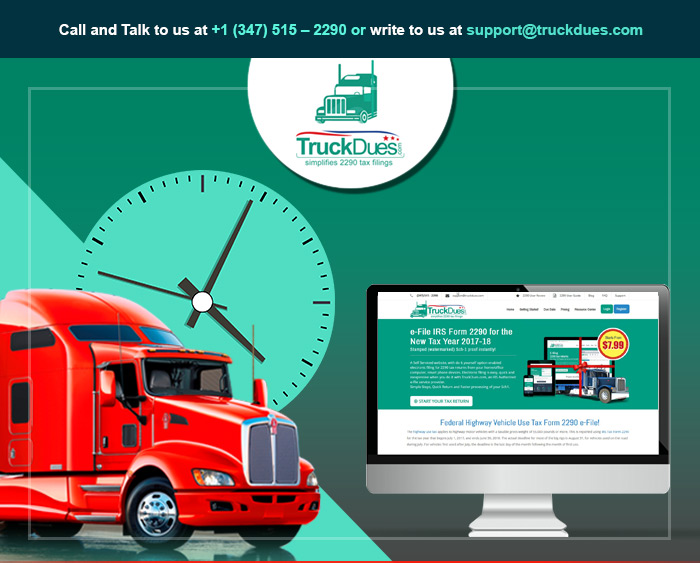 Today, we are approaching you with this article to remind you about the near term Form 2290 HVUT tax deadline which is due by Oct 31, 2017 for vehicles which are in operation since September 2017. Any Heavy vehicle that possess a minimum gross weight of 55000 lbs is liable to be reported on a Form 2290. But the Tax payment factor is determined by the number of miles traveled. When the vehicle exceeds 5000 miles in case of commercial based operation or 7500 miles in case of Agricultural purpose. When the vehicle doesn't meet its desired mileage limit within a respective tax year the vehicle is basically classified to be exempt from paying the HVUT taxes to the Internal Revenue Service. However, the vehicle is required to be reported over the Form 2290 to justify its cause for exemption during audits & Road side inspections.
E-filing has emerged to be one of the modern revolutions which help the tax payers to securely file & pay their Federal Excise Tax Returns with the Internal Revenue Service. The primary reason for introducing E-filing is to lessen the burden of a tax payer during their tax deadline. It puts them aside off scheduling appointments at the local IRS facility and sparing a day's time to have your turn arrived before you reach the counter. Guess the worst part, any last moment corrections are not honored else than starting all over again. Instead sit back, relax and e-file your Form 2290 through www.truckdues.com in matter of minutes.
The best part of E-filing is its turnaround time. Need not wait until few business days after filing to hear a response back in mail. Whereas, the general turnaround time while E-filing is mere few minutes. Soon after you e-File you'd be able to print the IRS digital watermarked copy of Schedule 1 in your registered e-mail address and the same can be printed out for documentation purposes during vehicle registration.
Truckdues.com is rated to be one of the reliable and nominally charging websites to E-file the HVUT Form 2290. It has earned its trust among many independent truckers, trucking companies and major trucking communities across our nation. E-filing begins here as low as $7.99. Why waiting until the deadline when we got E-filing as an option. Log on to www.truckdues.com and E-File your Form 2290 before Oct 31, 2017 to stay away from the IRS penalties and interests.
Please feel free to reach our support team @ (347) 515-2290 [9. AM through 5 PM, Central Standard Time including weekends and all major federal holidays] or write us: support@truckdues.com or Live chat with our support team for instant help