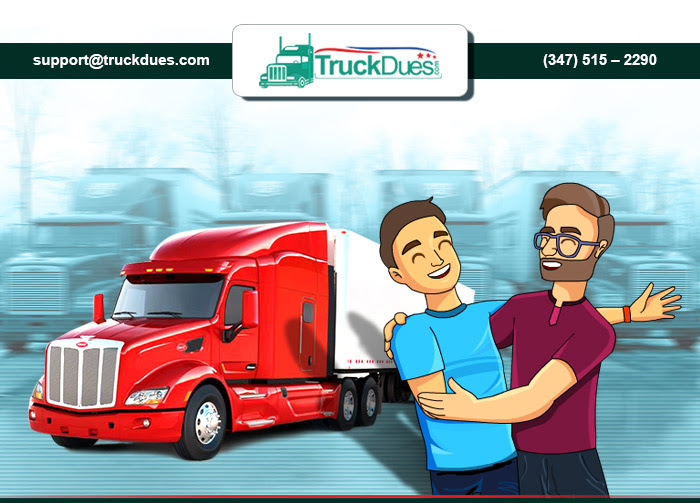 Near or far, our lives are so much richer with good friends that make us laugh, that listen and comfort us in need, and just make things more fun than if we were on our own. A strong friendship doesn't need daily conversation or being together. As long as the relationship lives in the heart, true friends never part. Truckdues.com wishes every true friend out there a Happy Friendship Day!
Many truckers unfortunately miss their opportunity to hang around with friends due to their busy work schedule on road; they stay committed towards getting the nation's need served on time. So, they had to sacrifice many moments of joy in their life, many truckers are perhaps solitaire on road. Truckdues.com has been a good friend for many a truckers and trucking companies with their Form 2290 tax E-filing needs.
We have stood with them all the times when they faced trouble in E-filing their HVUT Form 2290 Tax returns. Now aside from the professional point of view, we are also their good friends and we would love to take this opportunity to thank them all for being our good friends & clients.
At this moment of joy, we also would like to keep you aware of the nearest tax deadline that waits by the end of August. Form 2290 is always due by June and its payable until the end of August. Hence, it's time now to renew your Form 2290 for the period beginning July 1, 2017 through June 30, 2018. As a True Friend, we don't want you to face any embarrassment during DOT inspection and during Truck registration.
We have sadly heard quite a few of our Trucker friends who stayed unemployed due to the non renewal of their HVUT Form 2290. We are always strive to be your Form 2290 HVUT e-filing partner; we just stay at a ring away.  Feel free to call us and talk to us about your tax filing needs; as a matter of fact we'd be able to talk to our friends quite often.
Truckdues.com is rated to be one of the top user- FRIENDLY websites by many truckers across the nation. It has made E-filing Form 2290 simple. Registration is absolutely free and pay only when you E-file. You would hardly spend mere few minutes to E-file and Pay your Form 2290 with the Internal Revenue Service.  As a result receive the IRS digital Watermarked copy of Schedule 1 in your registered e-mail address almost instantly.
Please feel free to reach our support team @ (347) 515 2290 [9. AM through 5 PM, Central Standard Time including weekends till the end of August or write us: support@truckdues.com or ping us using the Live chat option embedded with our Application.