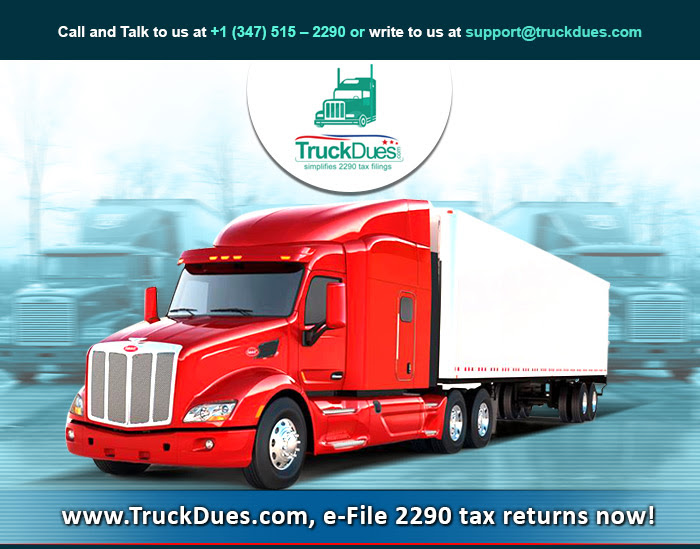 The high time to File the Heavy Highway Vehicle Used Tax Returns is still going on; it's now time to renew Form 2290 for the Period beginning July 1, 2017 through June 30, 2018 to get your vehicle registrations done at the DMV' s office.  Aside from the fact that the Form 2290 is payable until the end of August 2017, you have to have your Form 2290 renewed as soon as possible to stay under the safe zone. Procrastinating at this tax deadline might cost your hard earned money by facing a late filing fee plus incurring interests from the Internal Revenue Service.
Every year, millions of HVUT tax returns are filed with the Internal Revenue Service. Among which nearly 30% of the total HVUT tax payers prefers to Electronically File their Form 2290 so they don't need to schedule appointments at the local IRS offices, avoiding long queues until them turn arrives etc. Instead they would e-file their HVUT Form 2290 safe & secured right from their home, offices & Trucks since all you need is a device that connects to the Internet; so you may get your Form 2290's filed instantly through www.truckdues.com.
E-filing is more secured than the conventional way and the best part is there is no waiting period involved in this process as the general turnaround time would be just few minutes. You may also skip the puzzle by answering few simple questions on our website and our application would automatically fill the form in the back-end and you'd also get a chance to review your progression before submitting your tax return to the IRS to make sure that things are just fine. Any discrepancies found could be corrected right there.
Truckdues.com offers widest range of services to Federal HVUT tax payers at a very affordable cost as e-filing begins here as low as $7.99. The signature move we have is VIN correction is absolutely free (when the original tax returns were filed through TruckDues.com). We also offer special discounts to CPA's and accountant who file multiple tax returns for them clients. We have earned our trust among many a Truckers and Trucking companies due to our simple designed application which is very user-friendly and has no space for errors.
You may also upload multiple vehicle information by using the Bulk Upload option which enables you to import your bulk inventory at few clicks. Registration is absolutely free; Pay only when you E-file. Do not hold up until the deadline and skip undergoing last moment stress. The sooner you e-file; the sooner you receive the IRS acknowledgment (The IRS Watermarked Copy of Schedule 1). Please feel free to reach our support team @ (347) 515 2290 [9. AM through 5 PM, Central Standard Time including weekends and all major federal holidays] or write us: support@truckdues.com or Live chat with our support team for instant help.