Dear truckers! TruckDues.com wishes you a Happy Christmas 2022! And a wonderful new year, 2023! We wish the magic of Christmas fills every corner of your heart and home with joy, now and always. Also, we thank you for your continuous support and for making this year fantastic. As we enter the new year, let this year be fantastic, and let all our dreams come true!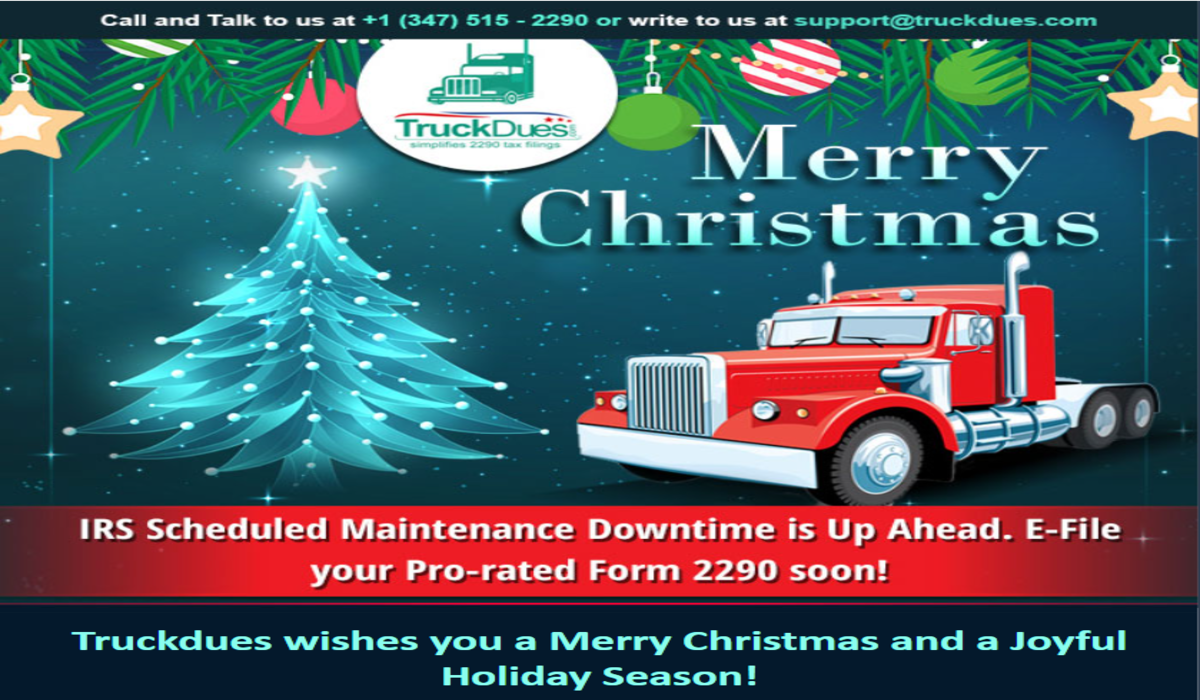 The most convenient platform to e-file form 2290 online.
IRS made form 2290 e-filing mandatory for all truckers reporting form 2290 truck taxes for 25 or more heavy vehicles or trucks. Also, they encourage truckers with a single truck to e-file form 2290 through an IRS-approved service provider, as the e-filing process is smooth, accurate, and easy to process for the IRS. TruckDues.com is an IRS-approved modernized form 2290 online e-filing service provider. All truckers, truck taxpayers, and tax preparers can e-file form 2290 truck tax returns online directly to the IRS and get the instant IRS digitally watermarked schedule 1 receipt through email. Form 2290 e-filing service charges at TruckDues.com starts at just $7.99 for a single-vehicle return. We also have seasonal, and package prices for bulk vehicle returns. We provide FREE VIN corrections for returns filed in our platform, or it costs just $ 9.99. Also, we provide form 2290 amendments e-filing and form 8849 schedule 6 refunds/credit claims online filings.
IRS is shutting down for the maintenance!
As the holiday season is upon us, the IRS is shutting down for maintenance from December 26th, 2022, and is expected to be reopened around the first week of January 2023. Therefore, truckers with tax dues and reports must file and pay the form 2290 truck taxes before the 26th and get the appropriate form schedule 1 receipt to continue the trucking business on the public highways. You can e-file form 2290 truck taxes on TruckDues.com during the IRS downtime. We will hold your tax returns safely in our platform and transmit them to the IRS once they reopen and accept the 2290 tax returns.
Pro-rated form 2290 truck taxes are due for November used vehicles!
Also, pro-rated form 2290 truck taxes for the heavy vehicles or trucks first used in November are due by the end of December. Since the IRS is closing for maintenance, truckers must report form 2290 and get the schedule 1 receipt before December 26th.
Contact our customer support team for additional support.
You can reach our customer support team at (347) – 515 – 2290, a toll-free number. Our executives are available from 8 AM to 6 PM CST on all working days. They will attend your call at once and sort out all your form 2290 and tax e-filing-related queries within no time. You can also write to us at support@truckdues.com.