Dear truckers! The entire team of TruckDues.com thanks you for another beautiful year. We have grown exponentially this year, and it is all because of your constant support. We thank you for regularly choosing TruckDues.com as your form 2290 HVUT e-filing service partner. We got a lot of new users this year, and we hope our association continues for all the years to come. We look forward to serving you with tax and e-filing-related services and making form 2290 online e-filing more accessible and affordable.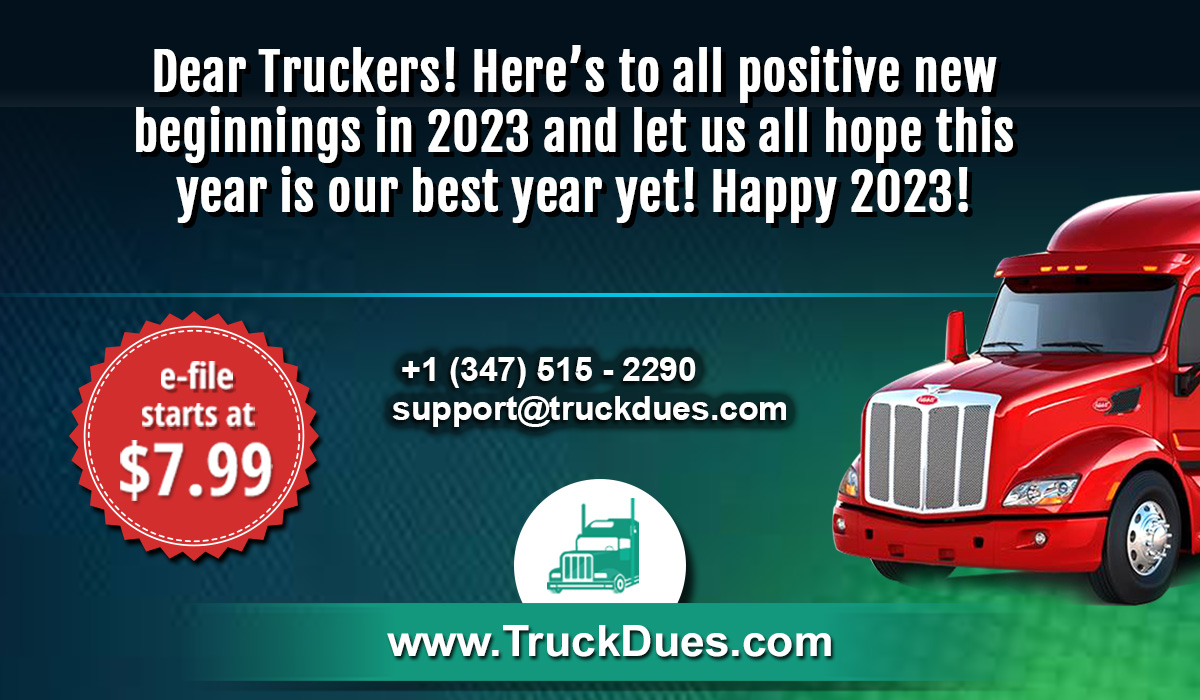 IRS-approved form 2290 e-filing service provider.
IRS made form 2290 e-filing mandatory for all truckers reporting form 2290 truck taxes for 25 or more heavy vehicles or trucks. Also, they encourage truckers with a single truck to e-file form 2290 through an IRS-approved service provider, as the e-filing process is smooth, accurate, and easy to process for the IRS. TruckDues.com is an IRS-approved modernized form 2290 online e-filing service provider. All truckers, truck taxpayers, and tax preparers can e-file form 2290 truck tax returns online directly to the IRS and get the instant IRS digitally watermarked schedule 1 receipt through email.
Best platform to e-file 2290 related forms!
TruckDues.com offers free VIN correction services for customers who e-filed form 2290 with us. Also, truckers can easily apply for form 2290 amendments online and form 8849 schedule 6 truck tax refund claims online at TruckDues.com. Our platform is the one-stop solution for all 2290 truck tax-related services. You can choose your preferred 2290 services, prepare the reports, upload the supporting documents, transmit them to the IRS and get instant acceptance from the IRS directly to your registered email.
Round-the-clock customer care services!
TruckDues.com provides full-pledged customer support service to support our users extensively. You can contact our customer support team to learn more about form 2290 HVUT e-filing and other form 2290-related services at TruckDues.com. In addition, you can speak to our customer support executive at 347-515-2290 for all your form 2290 e-filing-related queries. They are available at your service on all working days from 8 AM to 6 PM EST. Also, you can write your queries to support@truckdues.com, and we will reply to you as soon as possible.
Here's to all positive new beginnings in 2023 and let us all hope this year is our best year yet! Happy 2023!