Hello, truckers! We have happily welcomed the new year, 2023, and TruckDues.com wishes you a wonderful year ahead! Let good things come to you. May your trucking business thrive and grow exponentially this year. We take this opportunity to thank you for choosing us as your form 2290 truck tax e-filing service partner. We are eager to serve you this year and in the coming years. However, as the current tax period has reached its halfway point, there are still six more months remaining for the new tax period to begin in July 2023. So, we advise you to get ready to submit the tax reports to the IRS and pay the tax dues on time, without any delays. Otherwise, the IRS will charge you penalties, late charges, and interest on your dues.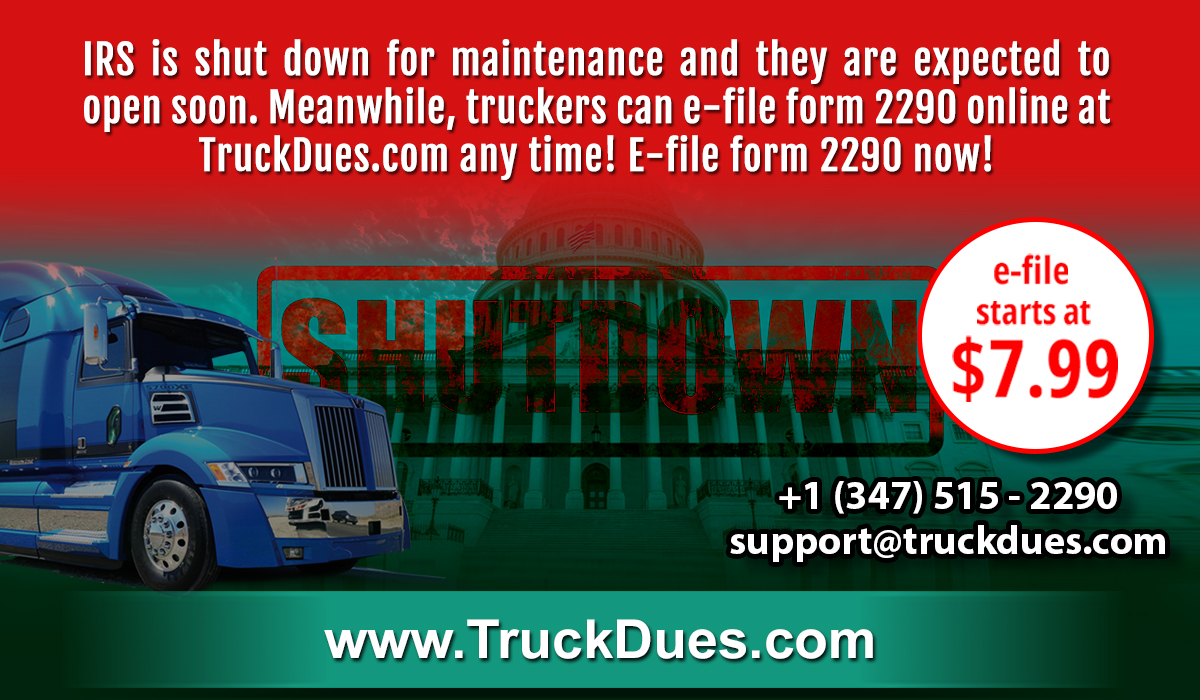 IRS has officially closed for maintenance!
The IRS has officially shut down for maintenance and will open for business soon. During this downtime, the IRS will not accept or process any tax returns and send out any acknowledgements or receipts to the taxpayers. Therefore, taxpayers must wait till the IRS opening date to report their taxes. The downtime is also applicable for online e-filing. But you can e-file form 2290 HVUT online at TruckDues.com at your convenient time without waiting for the IRS to open. We will hold your e-filed tax returns in our system and transmit them to the IRS once they start accepting tax returns. You can then pay the tax dues and instantly get the IRS-stamped schedule 1 receipt to your email.
E-file form 2290 at TruckDues.com to save time and money.
TruckDues.com is an IRS-approved modernized form 2290 e-filing service provider that has proudly served the trucking community of the United States for over a decade. TruckDues.com is the most convenient online platform to e-file form 2290 online directly to the IRS. We offer comfortable UI/UX to prepare, report and pay your form 2290 truck taxes to the IRS and get back the IRS digitally stamped schedule 1 receipt directly to your registered email address. TruckDues.com has many features that help to prepare your taxes quickly and accurately. For example, you can use the bulk upload option to upload multiple vehicle information with an excel sheet and prepare your tax reports. If you are an existing user, you can use the clone returns option to reuse all the information from your previous tax returns if nothing has changed from the past tax reports. Also, you can use the import options to import the tax information from other tax reports. These features help to save a lot of time and eliminate the possibility of making errors.
Accurate form 2290 e-filing, only at TruckDues.com!
Also, TruckDues.com makes the 2290 truck tax return processing easy for the IRS. Since our system is automatic and error-free, the IRS can process your tax reports as soon as possible and send you the digitally stamped schedule 1 receipt almost immediately to your registered email address. Suppose you have entered the wrong VIN of your vehicle unintentionally. In that case, TruckDues.com offers FREE VIN correction services where you e-file for 2290 VIN corrections and get back the revised schedule 1 receipt immediately. You can reach our customer support team at (347) – 515 – 2290, a toll-free number. Our executives are available from 8 AM to 6 PM CST on all working days. They will attend your call at once and sort out all your form 2290 and tax e-filing-related queries within no time. You can also write to us at support@truckdues.com.