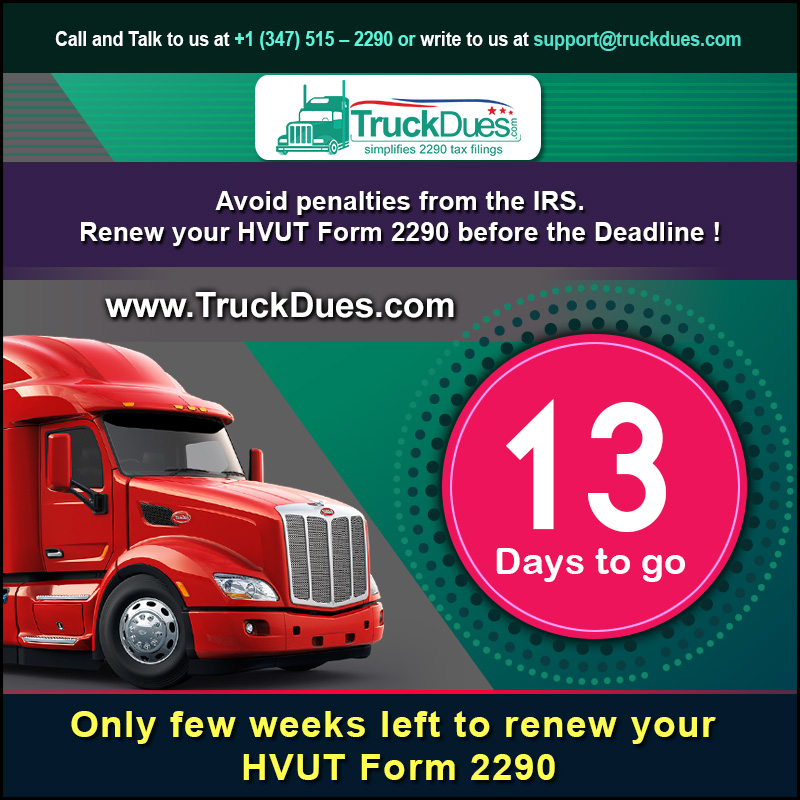 Hello there Truckers, as you all know that the HVUT Form 2290 could be filed up until Tuesday, September 3, 2019. However we want you to know that it's high time to E-File the Form 2290 and millions of tax returns are e-filed at this time hence we recommend you to e-file as soon as you can to receive the IRS digital watermarked copy of schedule 1 in your e-mail with no further delay.
Every year the Form 2290 is due by June and it is payable until the end of August. But for this year, the deadline is extended up until Tuesday, September 3, 2019 as the last day of August happens to be a deadline. However this deadline of August is only applicable for renewals of Annual Tax returns and incase of new vehicles the HVUT Form 2290 must be filed by the last day of the month following the month of its first use.
On that basis, aside from your Annual HVUT Form 2290 renewals if you had purchased any new/used trucks during July 2019 you are required to file the pro-rated HVUT Form 2290 before Tuesday, September 3rd, 2019. So act fast and react. Do not procrastinate until the final moment to avoid last moment rush and try not to face any penalties and interests incurred from the Internal Revenue Service stating Failure to File & Pay your Form 2290.
Only when you possess a heavy highway vehicle with a minimum taxable gross weight of 55000 lbs and if the truck is been designed to be used over the public highways for Commercial, Agricultural & Logging purposes. If the said truck is assumed to be used over the desired mileage limit for exemption (5000 miles for Commercial based vehicles) & (7500 miles for Agricultural based units) then the tax due payment needs to be made to the IRS full in advance.
Over the other hand if the vehicle is assumed to be used under 5000/7500 miles then the truck turns out to be exempt and no taxes are required to be paid to the IRS for the same reason. Such vehicles are called as Suspended/Exempt vehicles and they are basically represented by Category W.