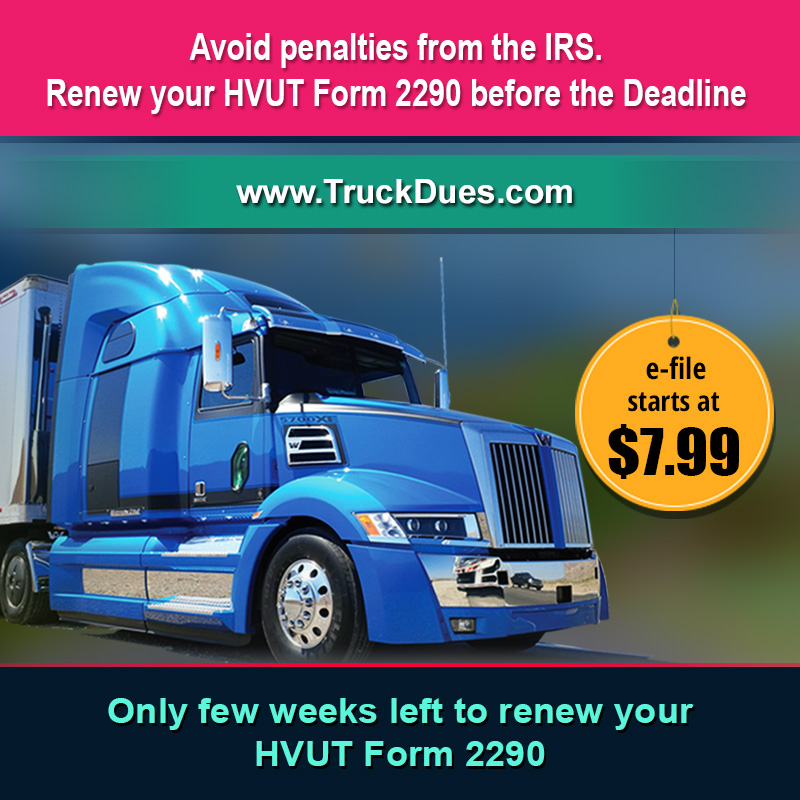 Hello there Truckers, the HVUT Form 2290 is now due on heavy vehicles for the period beginning July 1st, 2019 through June 30th, 2020. The Form was due in June and its payable until the end of August. However, since the last day of August 31, 2019 ends in a weekend the deadline has been stretched until September 3rd, 2019.
Now this Tax Form is generally paid on Heavy vehicles with the minimum gross weight of 55000lbs or more and the same is been used over the public highways for Commercial, Agricultural & Logging purposes. The tax due is determined by the number of miles that the truck is been used for a respective tax period.
If the said vehicle is prone to be used over 5000 miles for the Period beginning July 1, 2019 through June 30, 2020 then the tax payment needs to be made upfront to the IRS for the respective tax period and such vehicles are known as Taxable Vehicles, over the other hand if the said truck is going to be used under 5000 miles then the vehicle turns out to be exempt and no taxes needs to be paid to the IRS as they will be classified as Suspended/Exempt vehicles.
Now during this high time, millions of tax returns are been filed throughout the nation and we urge you to file your HVUT Form 2290 as soon as you can to avoid any last moment penalties or interests from the IRS. E-File as soon as you can to receive the IRS digital watermarked copy of schedule 1 in your e-mail at the earliest. Reach us back @ (347) 515-2290 for any further assistance.