Hello truckers, IRS made electronic filing mandatory for filing form 2290 truck tax returns for all the truckers with 25 and more heavy motor vehicles in their fleet. Also, they encourage other truckers to e-file form 2290 online, even for single-vehicle tax returns. IRS now prefers e-filing form 2290 and doing everything digitally because it is easy, convenient, avoids human-to-human contact in these pandemic times. Along with that, e-filing significantly reduces man made errors, and record-keeping is very easy to maintain for the IRS.? 
Now let us see how the form 2290 electronic filing benefits the truckers by saving time and money!? most importantly the IRS Watermarked Schedule 1 receipt proof is shared with you instantly.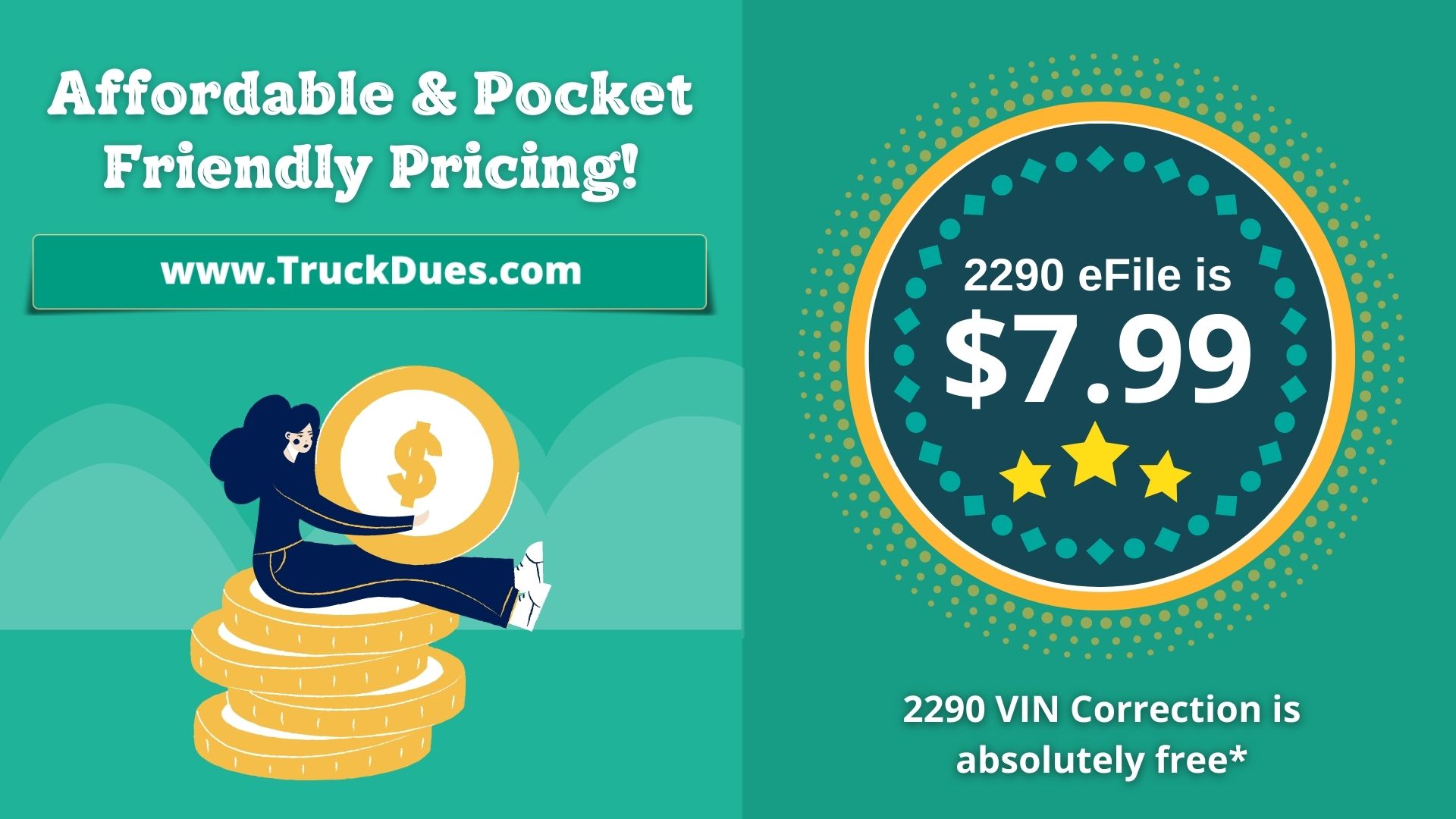 E-filing is easy and fast!
Your days of following up the deadline, fixing up an appointment with IRS, driving there, standing in the queue, waiting for your turn, and finally filing your form 2290 tax returns at the counter are finally over. You don't need to do all these; instead, you can take out your smartphone, visit our website?www.truckdues.com, register for free, and start e-filing form 2290 truck tax directly to the IRS from the comfort of your home/office without visiting the local IRS office.? 
Instant Schedule 1 Copy!
Usually, IRS will take a few weeks to complete the process and send you the official IRS stamped schedule 1 copy as the proof of payment and form 2290 tax approval. This long waiting process might affect your trucking business because you cannot operate without a valid schedule 1 copy. In the e-filing method, you will get your official IRS digitally stamped/watermarked Schedule 1 copy directly to your registered e-mail which you can download, print, and use for all legal purposes. The maximum time IRS takes to send your schedule 1 copy after approval is 20 to 30 minutes! So, start e-filing now.? 
Simple Do-it-yourself Process!
Truckdues.com is an official IRS authorized e-filing service provider for form 2290 HVUT online. Our website is designed with an excellent user interface that enables you to prepare and file form 2290 tax returns in a few simple steps. You don't need to have complete knowledge of the IRS process and regulations to e-file form 2290 at truckdues.com. Our website takes you through the step-by-step process and lets you complete your form 2290 tax report within no time.? 
FREE VIN Correction
You don't have to suffer if you made any mistakes in your form 2290 VIN or typed up incorrect VIN. You can e-file again for VIN corrections for free at truckdues.com. You don't need to go to the IRS office or file an amendment or pay any fine. You can simply e-file for VIN corrections by checking out the appropriate option at truckdues.com.? 
Bulk Information Upload
Truckdues.com makes it convenient for the users to bulk upload the vehicle information in a single go for e-filing of multiple vehicles. You need not enter the information of each vehicle separately. You can upload all the information through an excel sheet in the proper format, and our system will take it up and prepare the tax form 2290 accordingly. Truckdues.com allows you to duplicate the previously e-file form 2290 for renewals to save a great deal of time.? 
Most Affordable Price
Form 2290 e-filing starts at $ 7.99 at truckdues.com for e-filing single-vehicle returns. This is the most affordable and lowest price for e-filing form 2290 online. Truckdues.com also offers package pricing for bulk vehicle returns to benefit our clients. The price package for unlimited vehicles in single tax returns is $139.99 and for unlimited vehicles in unlimited tax returns is $199.99. This pricing range benefits every trucker in the trucking community, from a single truck owner-operator to a trucking conglomerate.? 
Best Customer Support Services
Even if you get stuck in the middle of e-filing your form 2290 or you have any doubts about the whole process, you can contact our customer service desk for support and guidance. You can contact our customer executive at 347-515-2290. They are available at your service on all working days from 8 AM to 6 PM EST. Also, you can write your queries to?support@truckdues.com, and we will reply to you as soon as possible.? 
---
Need an Extension of Time to File Federal Income Taxes for you and for your business, why wait till the last minute act now report tax extension application electronically, push your due dates by months! TaxGarden.com is part of TruckDues.com and we continue offering tax electronic filing service at an affordable price.