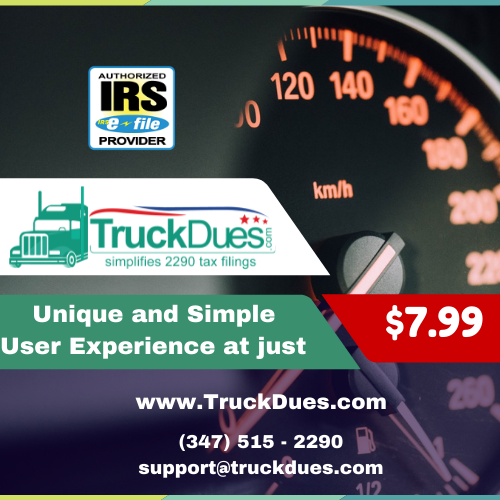 Hey there, wonderful truckers! IRS encourages all the truckers to e-file form 2290 online. And to make the process even easier, IRS delegated the e-filing service to the technical experts as its authorized modern e-file service providers. Truckdues.com is an IRS-approved modernized e-file service provider of form 2290 HVUT online. Truckdues got all the technical and security clearance from the IRS as per the rules and regulations to facilitate smooth e-filing of form 2290 between the taxpayers and the IRS.
Truckdues.com is the best e-file service provider for all American truckers. We offer a simple online platform and mobile applications for both Android and iOS users. So, you can use TruckDues on your personal computer, tablet, or smartphone at your convenience from the comfort of your home or office.
Unique and Simple User Experience
Our web and mobile applications are made with the latest technology and attractive user experience to provide you with a smooth e-filing experience online. You can easily register into TruckDues and start your form 2290 tax reports for the respective tax year any time you want. The whole form 2290 truck tax preparation process is simple, step-by-step and a complete do-it-yourself process tailor-made to ensure the best e-filing form 2290 experience for our customers. You will never face any difficulties throughout the form 2290 e-filing process in TruckDues, or you don't need any other third-party preparers or paid preparers to help to e-file form 2290 online. You can do everything all by yourself at turckdues.com at your own time and comfort without seeking help or spending a lot of money. You can even stop your form 2290 e-filing process in the middle and come back later to pick up where you left earlier. Everything you enter will be saved in our system to provide you with a seamless e-filing experience and save a lot of time and money.
Proper Customer Support Services 
Even if you face any difficulties or come into a few doubts regarding the process, you don't have to worry at all. Our customer support desk is available at your service to provide you with all the clarifications and required assistance in your entire form 2290 e-filing process. We got live chat support, and you can instantly shoot up your queries and chat with our executive to sort everything out in a jiffy. Or you can directly call our customer support executive at 347-515-2290. They will clear out all your doubts and walk you through every step of the e-filing process till your complete your form 2290 e-file online. Along with that, you can write up your queries to our e-mail at support@truckdues.com, and we will reply to your promptly.
Truckdues.com gives you a wholesome form 2290 e-filing experience in which you can prepare and pay form 2290 truck tax directly to the IRS. We provide you with a smooth customer experience and the best customer support service in the market.