TruckDues.com is an IRS-approved modernized online form 2290 e-filing service provider proudly serving the trucking community of the United States. Since trucking is one of the colossal businesses in the US, we provide the best form 2290 electronic filing support for all truckers and all types of trucking businesses. From owner-operators to trucking conglomerates, Truckdues.com provides the best form 2290 e-filing services in the market with the help of innovation and technology. Truckdues.com offers a convenient online solution that stands out from the conventional paper filing methods.
IRS made it mandatory for the truckers to e-file form 2290 truck taxes if they have 25 or more vehicles in their fleet. They even encourage the owner-operators with a single heavy vehicle to e-file form 2290 online because e-filing is the effective way to report the form 2290 truck taxes to the IRS. Also, it is easy for the IRS to process your form 2290 tax reports and send the schedule 1 copy directly to the email as every process is automatic, robust, and accurate. Apart from these, there are a lot of advantages to e-filing form 2290 online at TruckDues.com.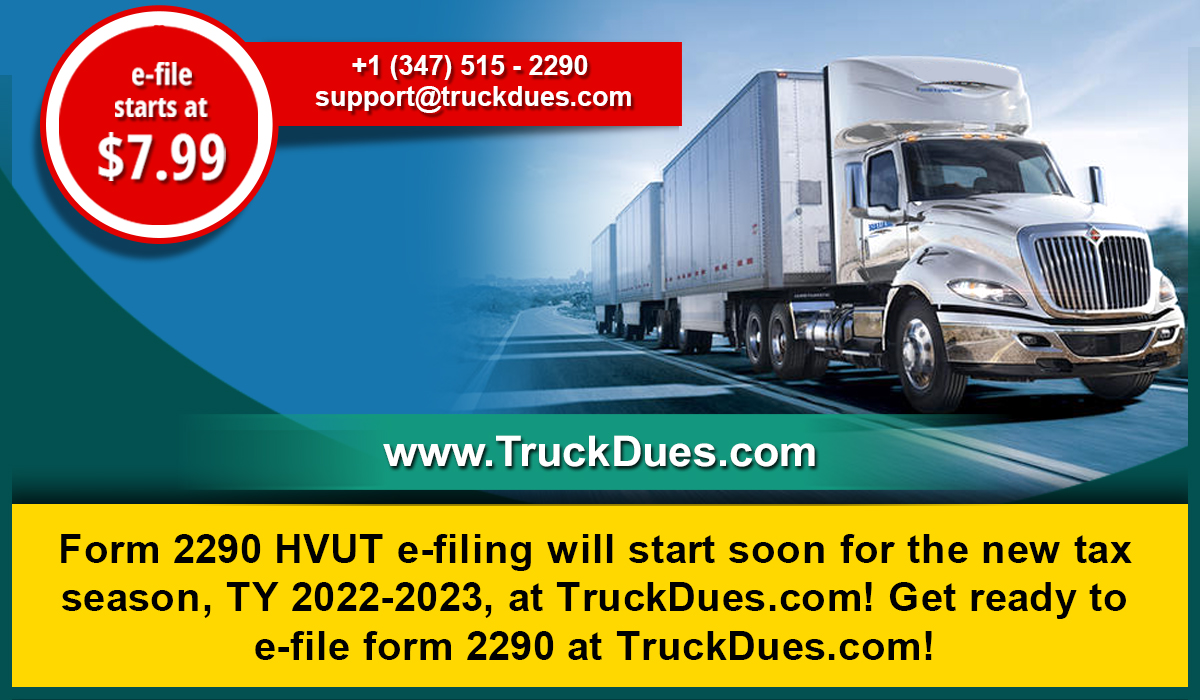 Get a fast and smooth form 2290 online e-filing experience!
TruckDues.com offers a convenient online platform with a simple yet effective user interface that gives a quick, step-by-step form 2290 e-filing experience. You can easily e-file form 2290 without any expert guidance at TruckDues.com. You can do all these using your smartphone or PC from the comfort of your home/office or anywhere you wish.
Get instant schedule 1 copy to your email!
You can get your IRS-approved schedule 1 copy directly to your email immediately after completing your form 2290 e-filing at TruckDues.com. IRS will process your truck tax reports once you transmit them through e-filing. You don't have to wait for weeks to get your schedule 1 copy from the IRS. Every process is instant here at TruckDues.com.
Get Free VIN Correction!
VIN is an integral identification of your heavy vehicle. Your VIN of your vehicle should be the same as your vehicle's identification. If not, you will run into trouble with the authorities. So, it is highly essential to get your VIN accurate in your schedule 1 copy. So, you don't have to worry if you typed in your VIN incorrectly. TruckDues.com offers free VIN correction where you can immediately correct your VIN and get the revised schedule 1 copy from the IRS.
Get Bulk Upload Features and Clone your Previous Tax Returns! 
You can e-file form 2290 for multiple vehicles at once. You can use the bulk data upload option to upload all your vehicles' information through an excel sheet and e-file form 2290 for all of them at once. You can save a lot of time with this method. Also, you can easily clone your previously e-filed form 2290 tax returns for this year's tax returns if you are renewing or repeating the same tax reports as the previous year. You don't have to start from the beginning to report your form 2290 truck taxes; instead, you can clone your previous tax reports easily.
Get the Tax Calculator Feature to estimate your tax dues!
TruckDues.com offers a unique feature where you can estimate your form 2290 tax payments before you e-file form 2290 tax reports to the IRS. You need to go into the tax calculator page in TruckDues.com and punch in the details of your heavy vehicle, like first used month, total gross weight, and mileage. Our tax calculator will show the estimated tax amount for your form 2290 HVUT.
Get a chance to pre-file form 2290 before the tax season starts!
IRS usually gets crowded during the beginning of the tax season as many trucking taxpayers will be filing their form 2290 HVUT reports. To give our users a head-start in their form 2290 e-filing, TruckDues.com offers form 2290 pre-filing method where the taxpayers can report their taxes days ahead of the tax season. We will securely hold the form 2290 prefile in our system and transmit them to the IRS once they start accepting form 2290 for the tax season. In this way, the truck taxpayers can stay away from the crowd, file their tax reports days ahead and get the IRS-approved schedule copy as soon as the tax season starts.
Get the best support from our customer services desk!
You can contact our customer executive at 347-515-2290 for all your form 2290 e-filing-related queries. They are available at your service on all working days from 8 AM to 6 PM EST. Also, you can write your queries to support@truckdues.com, and we will reply to you as soon as possible.