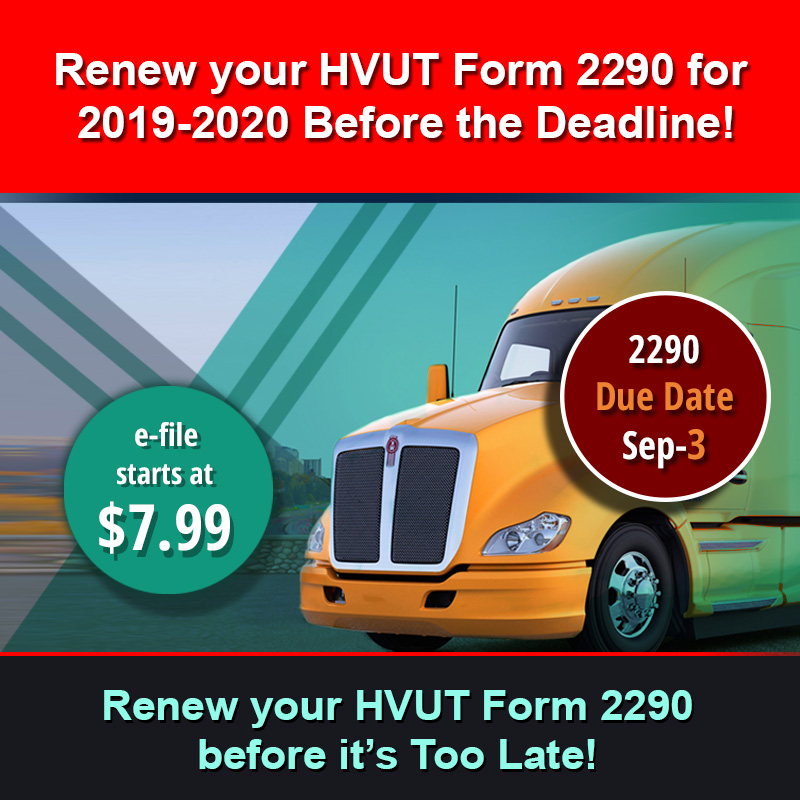 Attention Truckers! The high time to e-file the Heavy Highway Vehicle Used Tax Returns is still going on; hence it's now time to renew Form 2290 for the Period beginning July 1st, 2019 through June 30th, 2020 to get your vehicle registrations done at the State Department of Motor Vehicle.
Aside from the fact that the Form 2290 is payable until the end of August 2019 now that the deadline has been extended until Sep 3rd, 2019 since the last day of August happens to be a weekend, you have to have your Form 2290 renewed as soon as possible to stay under the safe zone. Ignoring this Tax Form deadline might cost your hard earned money by facing a late filing fee plus incurring interests from the Internal Revenue Service.
While e-filing, unlike filing your 2290 by paper you may skip the puzzled questions. Yes, by answering few simple questions on our website and our application would automatically fill the form in the back-end and you'd also get a chance to review your progression before submitting your tax return to the IRS to make sure that things are just fine.
We recommend you NOT to procrastinate on this Form 2290 deadline as the last moment would be really tough to crack with an immediate response during the near term of actual deadline as the IRS e-file servers will be literally clogged up with millions of tax returns where it might further prolong the acceptance of your tax return if filed at the last moment.
In order for us to serve high demand queries, Truckdues.com will be operational even during weekends until September 1st, 2019. Reach us back for any further assistance over the following mediums:
Phone: (347) 515-2290 [Monday through Friday, 9 A.M to 6 P.M, Central Standard Time]
E-mail: support@truckdues.com
Live chat with our tax representatives. God Bless America! God Bless our Truckers!