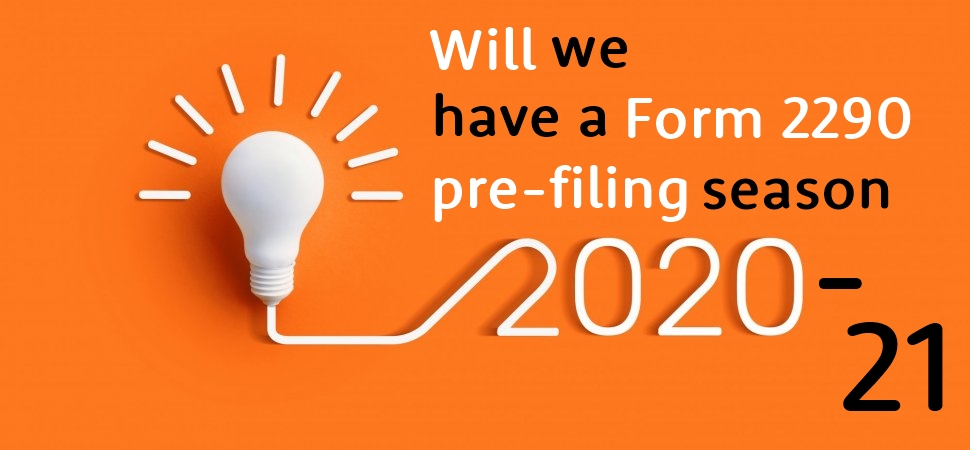 Hello there dear truckers! Hope you're all safe. Its been a wild year so far as the whole world is fighting together against the Pandemic Covid-19. It's spreading like a wildfire, uncontrolled and taking away many precious lives and counting. Our deepest regrets to all those departed souls and may they Rest in Peace. Stay strong and stay safe as we have miles to go. As usual, Truckers are one among the many front-line workers who are on the roads to deliver our essentials, we salute for all your efforts.
So far, the government has been supporting the trucking industry in the best possible ways along with many trucking associations and with its citizens. And It's almost time as we are in the final quarter of the Form2290 tax year 2019-2020 still puzzled about the next tax year. We've been receiving numerous calls from our customers regarding the Pre-filing season through us. For first-timers Pre-filing season is an Ideology where we allow our customers to file the taxes a month prior to the renewal date, usually by June 1 every year we allow customers to pre-file the taxes and once the IRS starts accepting form for the next tax year by July. This eliminates last-minute rush up's and helps you to continue your work without any interruption.
Now at present the coronavirus outburst being a hectic new around affecting almost every type of business around the globe, it is also the topic which needs to be discussed in terms of trucking as well. The government has already extended the due dates for several taxes due to the pandemic as the whole nation is affected economically. So far there has been no news about Form 2290's whether if there will be an extension in due date or will there be a waiver of taxes since trucking is one of the most affected businesses during the pandemic where thousands being jobless. If no such thing is communicated by the government, then the tax filing season would go as normal and as usual, we would open up our systems and enable pre-filing by June 1 for our users and get you the schedule-1 copy within the first week of July.
We are open for business during the pandemic remotely to assist our customers, you may contact us at 347-515-2290 or just drop us an email to support@truckdues.com and we would respond to your queries at the earliest. Until next time we come up with an update, Stay safe.