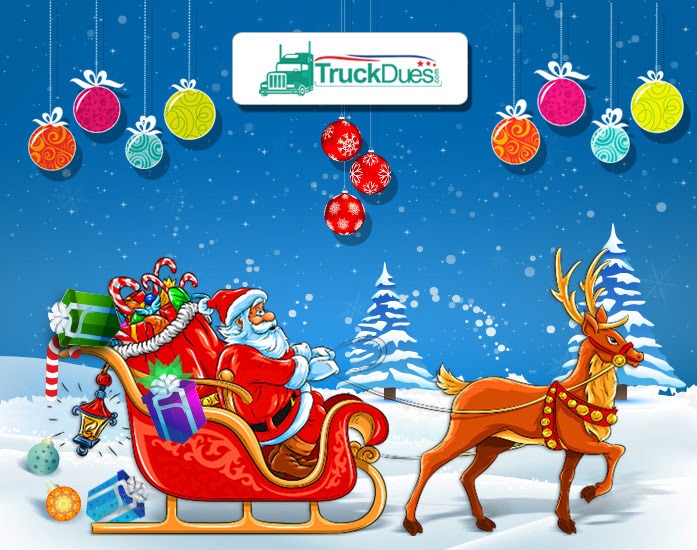 The greatest season of joy is right around the   corner. It is now the time for us to the hide gifts under the tree, decorate our houses, garden with lights, the cards in the mail, turkey dinners with family and friends, snow in the yard, stockings hanging in the living room, and shouts of "Merry Christmas" to those who pass by in the streets.
Generally Christmas is supposed to be a time spent with family & friends. But not many are   gonna really enjoy the essence of the Christmas joy, especially for most truck driver's Christmas can be a lonely time as they are on the road for nearly the entire month of December. During the holiday most truckers work; which proves that there is no substitute for hard work. If they don't move, the nation wouldn't.
Here are a few tips for our hard working American truckers on road during Christmas holiday:
Adjourn your day of celebration, if you have deliveries to make over the Christmas Holiday that prevents you from being home with your family.
Get your Favorite meal from a local diner. Have a Good time enjoying the meal.
On Christmas day, video chat with your friends & family. You can also access social media websites during your breaks to stay connected to your friends.
Surprise your family by leaving Christmas gifts around the house before you hit the road.
Get your lovable one or your pet animal aboard on your trip, so they would also get a chance to                   accompany you during your trip.
 Here's a bonus. Let's get to know some Unknown Festive Facts on Christmas:
Until June 26th 1870, Christmas wasn't declared an official holiday in the United States.
Alabama was the first state States to officially recognize Christmas in the United in 1836.
Oklahoma was the last U.S. state to declare Christmas a legal holiday, in 1907.
In 1962, the first Christmas postage stamp was issued in the United States.
More than 3 billion Christmas cards are sent each year in the U.S. alone.
In the U.S. approximately 30-35 million natural & real Christmas trees are sold each year.
Christmas purchases account for 1/6th of all retail sales in the U.S.
In 1950 According to the Guinness world records, the tallest Christmas tree ever cut was a 221-foot      Douglas fir that was displayed at the North gate Shopping Center in Seattle, Washington.
Since 1850 Christmas trees have been sold in the U.S& Christmas trees usually grow for about 15 years before they are sold.
TruckDues.com always feels proud to serve our great American truckers who leave their families behind, sacrifice their good times, to keep the nation's need served.  We owe them our great respect and we wish them a Merry Christmas & a Happy New Year.
For tax filing needs or inquiries, feel free to reach us @ (347) 515-2290 9.A.M to 5. P.M. Central Standard Time or e-mail us @ support@truckdues.com.