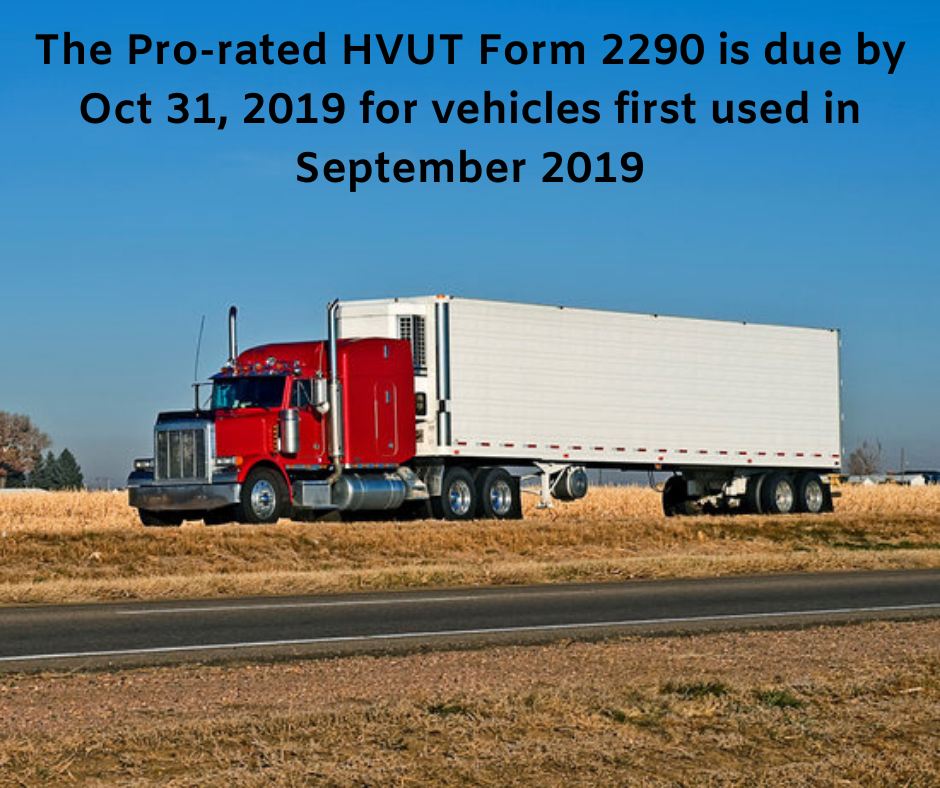 Hello there truckers, the Pro-rated HVUT Form 2290 is now due by Oct 31, 2019 for vehicles first used since September 2019. This Pro-rated deadline is drafted based on the Federal law that indicates Form 2290 must be filed by the last day of the month following the month of its first use.
If you had purchase/re-purchase any new trucks during September 2019, then you got 60 days before you could file this Form 2290, you generally file this tax Form to get your vehicle plates, tags, licenses renewed.
The HVUT Form 2290 is basically an annual tax paid to the Internal Revenue Service which is paid on Heavy trucks which comprises a taxable gross weight of 55000 lbs to the minimum until 80000 lbs & above and if the said truck is used on the public highways for commercial, agricultural & logging purposes.
However, the vehicle is determined to be a Taxable vehicle (Where the tax payment needs to be made full in advance to the IRS) or Suspended/Exempt vehicle (Where no tax payment needs to be made to the IRS) based on the desired mileage limit for exemption drafted by the Internal Revenue Service by virtue of the nature of job the utility vehicle performs.
Hence, if the subjected vehicle is expected not to go over the desired mileage use of exemption, it remains to be exempt from Form 2290 tax payment, however a tax return needs to be filed for this vehicle to legally claim and exemption.
Reach us back for any further assistance over the following mediums:
Phone: (347) 515-2290 [Monday through Friday, 9 A.M to 5 P.M, Central Standard Time]
E-mail: support@truckdues.com
Live chat with our tax representatives.
Have a Good One! See you over the next article.