Dear Truckers! TruckDues.com would like to remind you the deadline of form 2290 HVUT for the ongoing tax season, TY 2022-2023, is August 31, 2022, and it is just a few days away. It is essential for all truckers and truck taxpayers to e-file form 2290 HVUT ahead of the last date to stay away from the deadlines. It is also crucial for all truckers and truck owners to get the IRS stamped schedule 1 copy for their taxable trucks to operate on the public highways.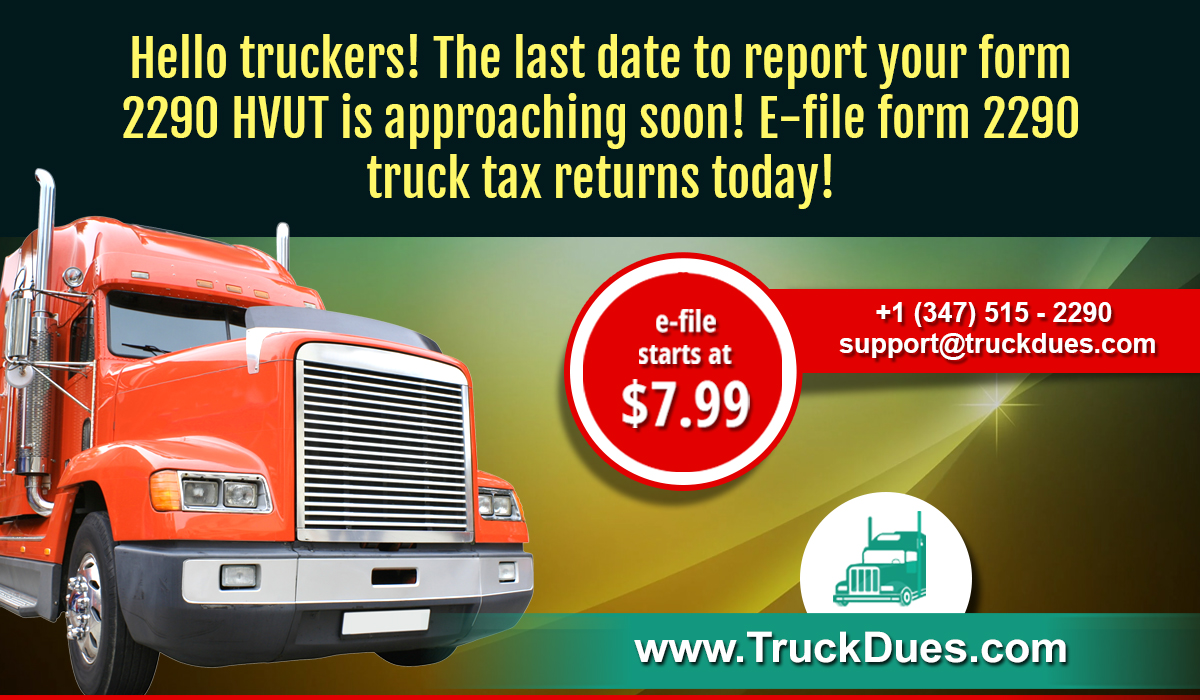 The tax period of this year started in July 2022, and it will end in June 2023. Truckers must report their form 2290 HVUT to the IRS for the entire tax period in advance as per the IRS regulations. The last date to report your form 2290 truck taxes to the IRS and get the schedule 1 copy is August 31, 2022. Many truckers have already e-filed form 2290 for this tax period at TruckDues.com. We request the truckers who are yet to pay the form 2290 tax returns to e-file form 2290 for this tax season to hurry up and e-file form 2290 online at TruckDues.com. IRS would charge penalties, late fees and interest on your tax dues if you failed to report the truck taxes. They will not give any extension time to report and pay the form 2290 HVUT. If you still need an extension, you must personally write to the IRS stating the valid reason for your extension request. So, it is wise for all truckers to e-file form 2290 at TruckDues.com before the deadline to avoid IRS actions.
E-filing form 2290 at TruckDues.com has a lot of advantages! 
The entire form 2290 e-filing process is simple, automatic and accurate on TruckDues.com. Our convenient online platform allows you to prepare and transmit your form 2290 truck tax returns to the IRS in just a few steps. You don't need any expert guidance to e-file form 2290 for you.
There is a 'Bulk Upload' option where you can upload all your vehicle information at once and e-file it within no time.
You can import essential details from your previously e-filed tax returns like VIN to renew your form 2290 HVUT for the current tax period.
You may use the clone returns option to reuse all the old data from your previous e-file to save more time.
Once you prepare and transmit your form 2290 returns to the IRS, you will get the IRS digitally stamped/watermarked schedule 1 copy within a few minutes.
IRS will instantly process your transmitted 2290 tax returns since every process here is automated and swift.
You can also opt for our TEXT ALERT services to know about your 2290 tax returns status with the IRS.
We also offer FAX services for your schedule 1 copy. TruckDues.com will deliver the fax copy of your IRS digitally stamped schedule 1 copy on subscription.
You will get unlimited and permanent record keeping of your form 2290 tax returns, information and schedule 1 copies. You can access everything in your TruckDues.com profile's dashboard 24/7.
You can also e-file form 2290 VIN corrections and form 8849 schedule 6 refund claims at TruckDues.com.
You can claim credits and adjust the claimed credits in your current tax payments at TruckDues.com.
com supports all IRS-approved payment methods like EFTPS, EFW, credit/debit cards, Checks or money orders.
Our customer support desk is ready to help you with all your form 2290 HVUT queries. You can use the LIVE chat support or call us at (347) 515 – 2290. You can also write your queries to support@truckdues.com.