Dear truckers! This message is to remind you that the last date to report your form 2290 HVUT is August 31, 2022, and it is just two days away. You must not delay the process if you haven't filed your truck tax reports. E-file form 2290 HVUT reports today at TruckDues.com and get your schedule 1 receipt to smoothly operate your trucking business on the public highways in this tax period, TY 2022-2023.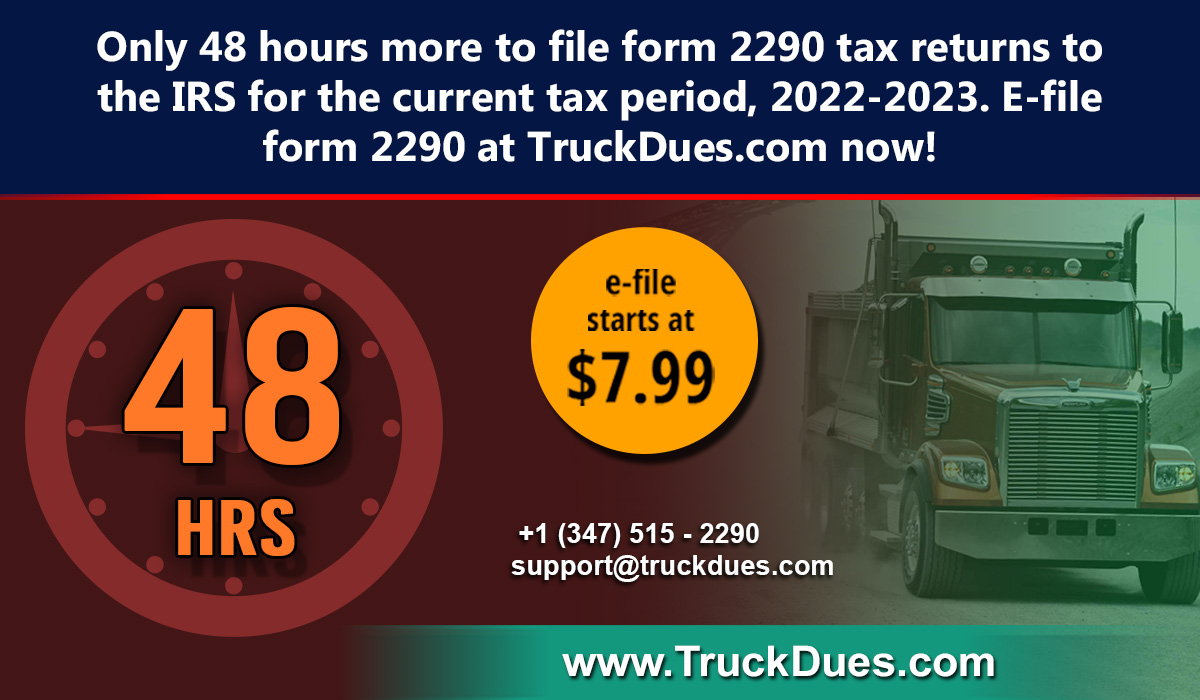 Stay ahead of the deadline today!
The truck tax period generally starts in July and ends next June, as per IRS regulations. Therefore, the tax period for this year started in July 2022 and will end in June 2023. The truckers and trucking taxpayers are advised to report their truck tax reports using the form 2290 in advance for the entire tax period during the beginning of every tax season. So, you should determine your truck taxes for all your taxable heavy vehicles and report them on time. There are only two days left to report your 2290 tax returns to the IRS, and you need to act soon. Login to your TruckDues.com profile or create one and start online form 2290 e-filing now!
You can e-file for multiple heavy vehicles at once on TruckDues.com. You have the option to bulk upload all your vehicles' information through an excel sheet, prepare your form 2290 tax returns for all of them and e-file directly to the IRS. They will process your tax reports and sends the IRS digitally stamped/watermarked schedule 1 copy as your proof of successful tax payment. You can download, print and use them for all your legal benefits like vehicle registration, insurance, license renewal etc.
TruckDues.com is the best platform to e-file form 2290 online.
TruckDues.com is an IRS-approved form 2290 online e-filing service provider proudly serving hundreds and thousands of truckers on their form 2290 e-filing solutions. TruckDues.com offers a convenient online platform to smoothly e-file form 2290 to the IRS. All you need is a PC, laptop, or smartphone, and you can complete e-filing form 2290 online in a few steps and get the schedule 1 copy immediately. The entire process takes just a few minutes on TruckDues.com. You don't have to visit the IRS office, paper file your truck taxes, and wait a few weeks to get the schedule 1 copy. You can do everything from the comfort of your home or office and instantly receive the schedule 1 copy.
Form 2290 e-filing starts at just $7.99 for a single vehicle tax return which is the most economical charge in the market. You can contact our customer support desk at 347 – 515 – 2290 for all your queries, or you can write to us at support@truckdues.com. We will revert to you shortly.