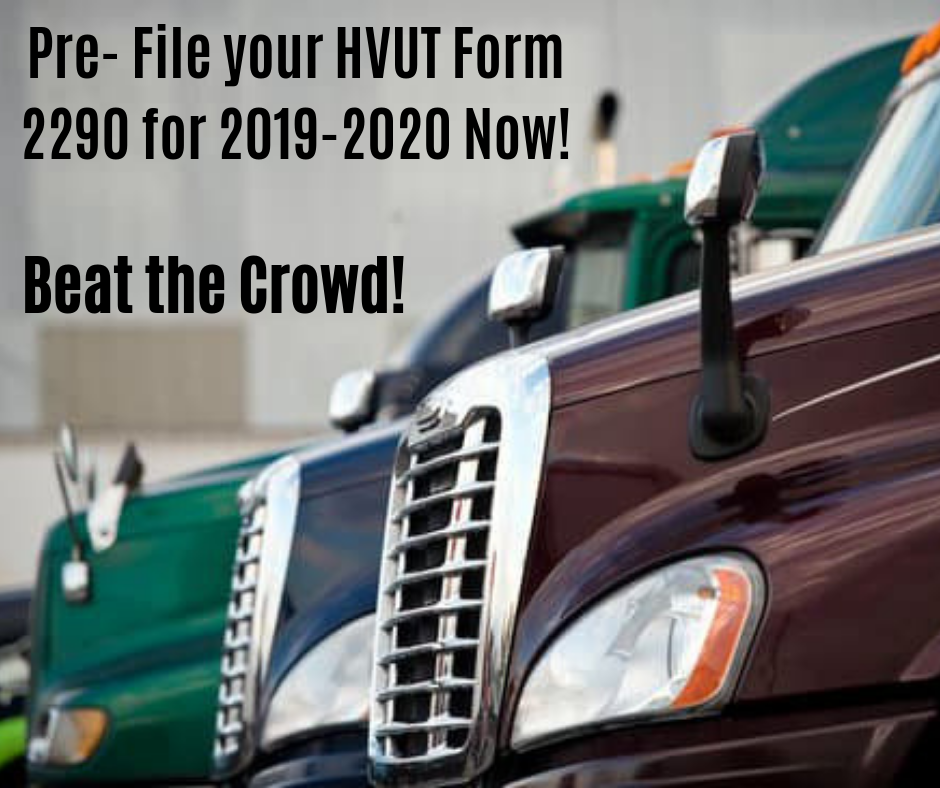 Hello there truckers, it's been about a couple of weeks now since the E-File race has started. Many HVUT payers who doesn't prefer procrastination have Pre-filed their HVUT Form 2290 for the Period July 1st, 2019 through June 30th, 2020. Now this pre-filing option lets them attain a priority over other last moment e-filers with their HVUT Form 2290 by default as long as their tax return acceptance is concerned.
The Pre-filing option is really simple to understand. For those who are now aware of How the Pre-filing works? Here's the answer. The HVUT Form 2290 is basically due by June and its payable until the end of August. But with pre-filing option you'd be able to e-file the HVUT Form 2290 for the upcoming tax period even before the Form is even due.
We came up with this initiative a couple of years back to overcome delays in processing tax returns filed during the high time months such as July & August due to millions of tax returns clogged up which needs to be processed by the IRS. Moreover, the IRS always processes e-filed tax returns on First come First Served basis. So, think what would be the probability to get your tax return accepted if filed lately near the deadline, you can't even stand a chance.
Hence, truckdues.com recommends you to make use of this pre-filing opportunity to E-file your HVUT Form 2290 for the Period July 1st, 2019 through June 30th, 2020 and receive the IRS digital watermarked copy of Schedule 1 in your registered e-mail address soon after the IRS begins processing your tax returns which is expected to be during the 1st week of July 2019.

Truckdues.com remains to be one of the most trusted websites amongst many independent owner operators for its reliability and cost effectiveness. Economic E-Filing begins here as low as $7.99. Feel free to reach us back for any further questions regarding your HVUT Form 2290 needs. Happy Trucking, Keep Moving America Forward & God Bless America!!!