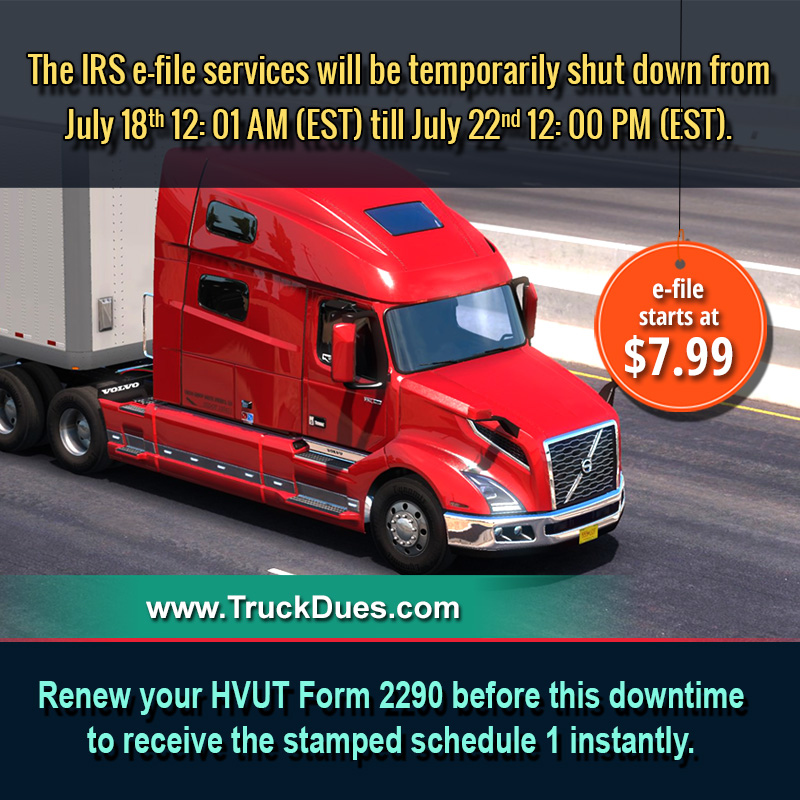 Attention HVUT Form 2290 payers, this article is to bring to your notice that the IRS e-file servers will be temporarily unavailable for the period beginning July 18th, 12: 01 AM (EST) though July 22nd, 12: 00 PM (EST) due to system upgrade. Hence, during this time electronic submissions will not be allowed by the Internal Revenue Service from any e-file service provider website.
So, we recommend you to renew your HVUT Form 2290 for the period beginning July 1, 2019 through June 30, 2020 before the downtime to receive the IRS digital watermarked copy of schedule 1 instantly. Generally the IRS goes offline due to maintenance every year in order for them to be able to upgrade their servers and to increase the stability of the e-file acceptance process.
However, this time around, the IRS had scheduled to go offline on a shorter note for an internal upgradation process. However, you may certainly e-file tour Form 2290 during this period and wait until the downtime is ceased before receiving the IRS proof of acknowledgement back from the Internal Revenue Service.
Truckdues.com has rated to be one of the most reliable websites who offers 2290 e-file services to our ever hardworking trucking community at a much affordable cost, Yes you can e-file your HVUT Form 2290's here as low as $7.99 and receive the IRS digital watermarked copy of schedule 1 back in your e-mail.