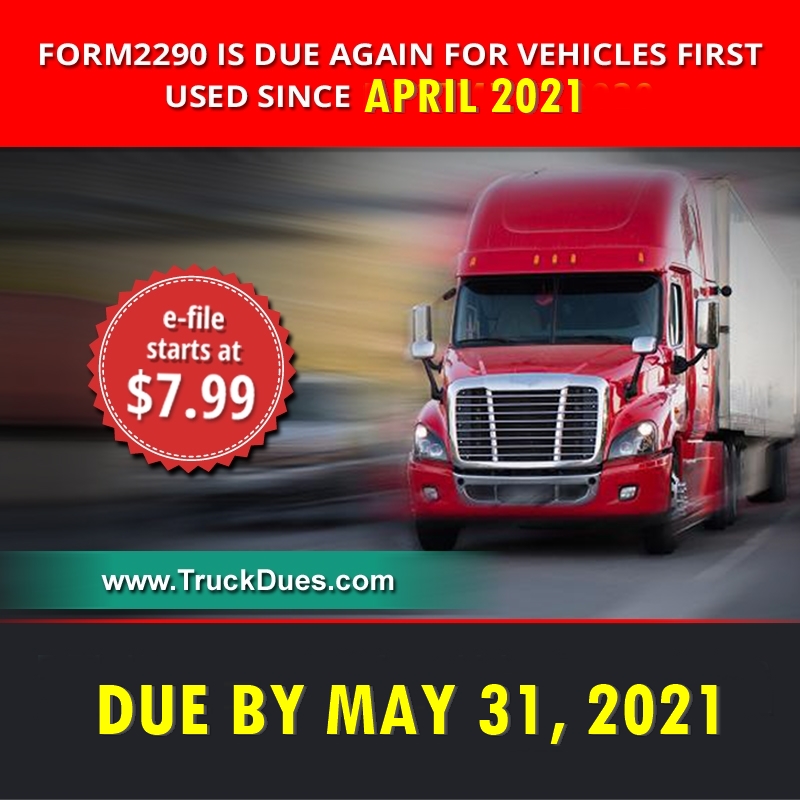 Please accept our heartfelt greetings to all of the HVUT filers out there. We've been dealing with the Covid virus for a while, but with good news about the vaccine coming in from all over the world, we're hoping for a cure and lives saved. Until then, be careful. Thousands of truckers have already e-filed their HVUT Form 2290 for the current tax period, which stretches from July 1, 2020, to June 30, 2021; now it's time to file the prorated form 2290, which is only applicable to truckers who purchased a new truck or used a new truck for the first time on a public highway in April 2021, which must be filed by May 31, 2021.
Any year, the tax owed is charged in full to the Internal Revenue Service if the truck will be driven over 5,000 miles for passenger vehicles and 7,500 miles for agricultural vehicles. However, since the tax date for new vehicles is the last day of the month after the month of first use, the Form 2290 is pro-rated. So, should you make a full payment? No, that would not be true. As previously said, taxes will be determined on a prorated basis from April to June 2021; if April 2021 is the first month used, e-file by May 31, 2021.
Due to the pandemic, all IRS offices are closed, leaving only e-filing as an alternative. However, most of you are still wondering why you should do that when you can still file your taxes manually and mail them to the IRS. Covid – 19 has recently impacted not only the IRS office but also the postal services. The schedule-1 copy was never obtained by several of our new customers who mailed a 2290 form, this caused them to stumble. Whereas, e-filing, with its automated, secure, and guaranteed schedule-1 copy to your inbox, will remove all of these troubles.
So, what're you waiting for? Now is the time to e-file your return on www.TruckDues.com and get your schedule-1 copy in minutes, as well as pay securely. You will contact us by phone at 347-515-2290 or by email at support@truckdues.com, and we will gladly assist you.