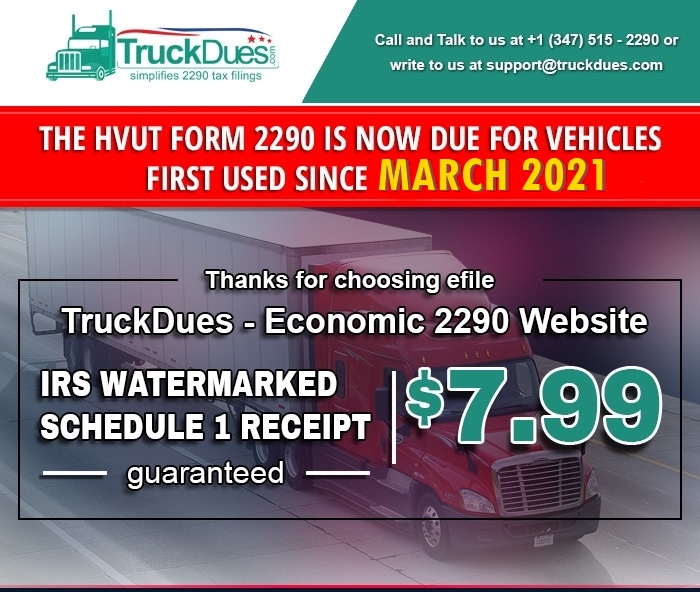 Any heavy vehicle with a gross weight of less than 55,000 lbs must file a Form 2290, but the tax liability element is based on the number of miles driven. When the truck has traveled more than 5,000 miles for commercial use or 7,500 miles for agricultural use. When a vehicle does not exceed the desired mileage cap within a tax year, it is counted as excluded from paying HVUT taxes to the IRS. During checks and roadside inspections, however, the vehicle must be identified using Form 2290 to validate its exemption.
E-filing has been one of the digital revolutions, allowing taxpayers to safely register and pay their Federal Excise Tax Returns with the Internal Revenue Service. The main motivation for implementing E-filing is to make it easier for taxpayers to meet their tax deadlines. It frees them up from making appointments at the nearest IRS office and waiting a day for their turn to come before they hit the counter. The worst thing is that any last-minute changes are ignored, forcing you to restart from the beginning. Instead, sit back, relax, and e-file your Form 2290 in a matter of minutes at truckdues website.
The great thing about E-filing is how quickly it can be completed. It is not necessary to wait a few days after filing for a response in the mail. When it comes to E-filing, the average processing period is just a few minutes. Soon after you e-File, you'll be able to print an IRS digital watermarked copy of Schedule 1 to your registered e-mail address, which you can use for vehicle registration paperwork.
E-filing costs as little as $7.99 here. Why delay until the last minute when we have the luxury of filing electronically? Log onto www.truckdues.com and E-File Form 2290 before April 30, 2021, for vehicles first used since March 2020. Please contact our tax experts at (347) 515-2290 (9 a.m. to 5 p.m. Central Standard Time) or write us at support@truckdues.com for immediate assistance. You can even live chat with our support team.