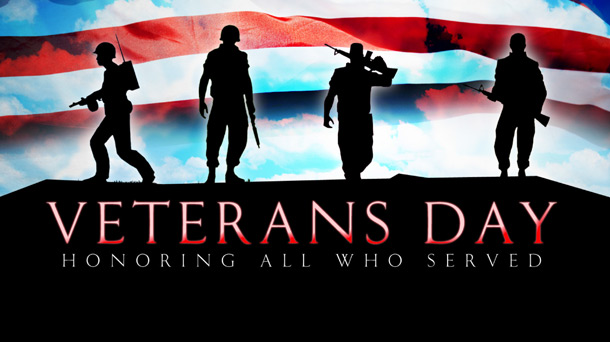 Freedom was never free! We live in a Free Country now. Amidst of our commitment clogged life & busy schedules we must take a moment to recognize the hard work and dedication of our American veterans on observance of Armistice Day. Our Veterans old and young alike, wore physical and mental scars of combat for one reason that is for us to have a Safer Life. After serving our country so honorably, many of our war heroes feel a sense of duty to continue to give back to the land they love and have fought so hard to protect.
In debt of our gratefulness for their patriotism towards our nation, we wish their day (Veteran's Day) to be filled with solemn pride in the heroism of those who lost their lives in our country's service and with gratitude for the victory".  Golden words told by Jean Dubuffet, A French Poet & Sculptor that "Unless one says goodbye to what one loves, and unless one travels to completely new territories, one can expect merely a long wearing away of oneself."   
We strongly believe that this great saying remains as an interchangeable truth even for Truckers who get on the road; leaving their lovable family behind to serve our nation's needs despite of weather challenges. Hence, we believe they deserve the same respect too.
As we take time this week to honor America's veterans, we always think about how we can extend our gratitude. So we always stay focused on leading our truckers in the right way by educating them their appropriate tax deadlines and we always would want our truckers to say "Staying late or Missing deadlines  is not on their watch"!
www.TruckDues.com is one of the most trusted IRS authorized E-file service providers for e-filing the federal Highway used taxes (Form 2290) which simplifies the tax solution needs for Owner Operated Truckers  & Trucking Industries who provides a supplementary revenue contribution towards our nation's Gross Domestic Product.
Conventional way of scheduling appointments at the Courthouse turns out to be time consuming, So rather sit back & E-file your tax returns through TruckDues.com to get your tax filing needs fulfilled instantly. For more help reach us @ (347) 515-2290 or E-mail us @ support@truckdues.com .
So On this Veteran's day as a moment to cherish our war heroes, let's hoist the Great American flag in our house, Salute & Say Thanks "To those in Uniform serving today & to those who have served in the past.