It's that time of the year again when you have to file your Federal Heavy Vehicle Use Tax returns on IRS Tax Form 2290. While the process may be tedious but that doesn't mean it is not important, no worries as such http://TruckDues.com has simplified and made this Truck Tax Form 2290 reporting simple, quick and affordable.
Taxes get a bad rep with truckers and truck owners for being difficult and time consuming. So much so that many of them fail to see the influence they actually have on their business and taxes if they just plan ahead. Form 2290 is a tax paid for highway vehicle use and which in return paid back for new highway laying, repair and maintenance works.
Heavy Highway Vehicle Use Tax
Truckers are familiar with the federal highway use tax for heavy motor vehicles, also known as the HUT (Highway Use Tax) or HVUT (Heavy Vehicle Use Tax). Generally this tax is reported on form 2290 for tax taxable vehicles and other trucks used since July, and its due on August 31 of each tax period. Anyone who registers a heavy highway motor vehicle in their name with a taxable gross weight of 55,000 pounds or more must file Form 2290, Heavy Highway Vehicle Use Tax Return.
Filing Deadlines
The filing season for Form 2290 filers is July 1 through June 30. You must file Form 2290 for the month you first use the taxable vehicle on public highways during the reporting period.
For vehicles you first use on a public highway in July, file Form 2290 between July 1 and August 31.
For vehicles you first use on a public highway after July, the tax for the current filing season will be prorated. File Form 2290 by the last day of the month following the month in which you first used on a public highway.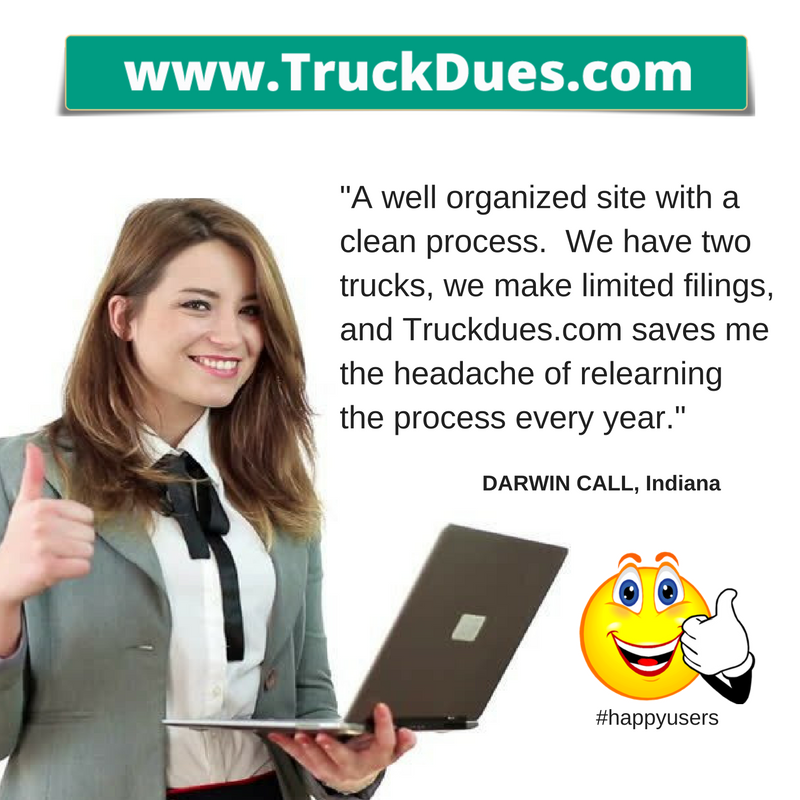 Why are we offering form 2290 efile for cheap and at a low cost?
Are you wondering why are we offering form 2290 efile for cheap and at a low cost? There is surely a purpose to be served. We know the hard work you do, we know the struggles you face on road and we are well aware how things are when the climate does not support you. Despite of the hardship, you file your tax 2290 return to the IRS as token of respect. It becomes tedious if paper filing was the method you choose to report and file form 2290. Instead, file your return online, pay a very low fee to TruckDues and receive your schedule 1 copy, right there in just minutes. Additionally, you are allowed to enjoy the features designed in the application, through your desktop and mobile with utmost ease.
If you still think, filing form 2290 is a tedious role to handle and wish never had to pay tax, kill the feel. TruckDues.com is one shop-stop service provider, allowing you to deal with filing fee with ease. Just $7.99 per filing and schedule 1 copy would be made available immediately when the IRS completes processing your 2290 tax return.