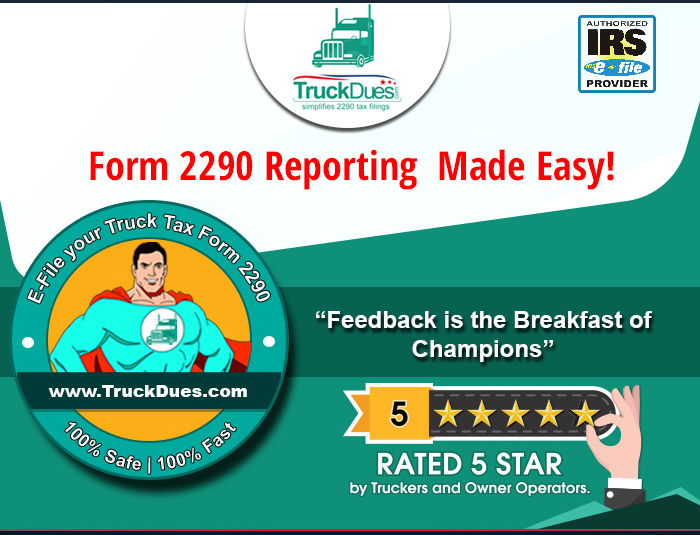 Hello there Truckers, over this article we approach you with a kind request to post your valuable feedback about our services over our partnered online review seeking community Trustpilot.com to enhance our customer satisfaction.
This initiative is been introduced with a motive to seek honest reviews from our customers to evaluate our level of service, trust & satisfaction factor among our users, their feedback would honestly help us to identify any areas of improvement to deliver a better customer support experience & user-friendliness of the web application.
Truckdues.com has been serving the ever hard working trucking community over the past 5 years with their HVUT Form 2290 needs at a much affordable price. We were the first e-file provider to introduce a honest pricing into the industry ($7.99 to report a single vehicle) and our unique feature is that one can correct the incorrectly reported VIN as many times they want to with no additional fee*. We never make exceptions on the customer satisfaction attribute as we make zero tolerance against any reported discrepancies.
E-File your Pro-rated HVUT Form 2290 before March 31st, 2019 for vehicles first used since February 2019, as the Federal law indicates that the Form 2290 needs to be filed on a vehicle by the last day of the month following the month of its first use.  E-File now to receive the IRS digital watermarked copy of schedule 1 back in your registered e-mail address instantly.
Reach us back for any further assistance over the following mediums:
Phone: (347) 515-2290 [Monday through Friday, 9 A.M to 5 P.M, Central Standard Time]
E-mail: support@truckdues.com
Live chat with our tax representatives.
Have a Good One! See you over the next article.