E-file form 2290 online.
Heavy Vehicle Use Tax Form 2290 is the tax amount charged by the IRS of the United States of America for the usage of public highways. IRS now advises every truck owner to file their truck tax online because e-filing is easy, secure, and quickly processed.
Easily register at TruckDues.com.
You can register for FREE with truckdues.com by clicking the 'Register' button on the top-right corner of our website. And you should fill out the form with your relevant details, accept the terms & conditions and click 'Submit.' That's all; you are successfully registered with us, and you can start filing IRS form 2290 online now.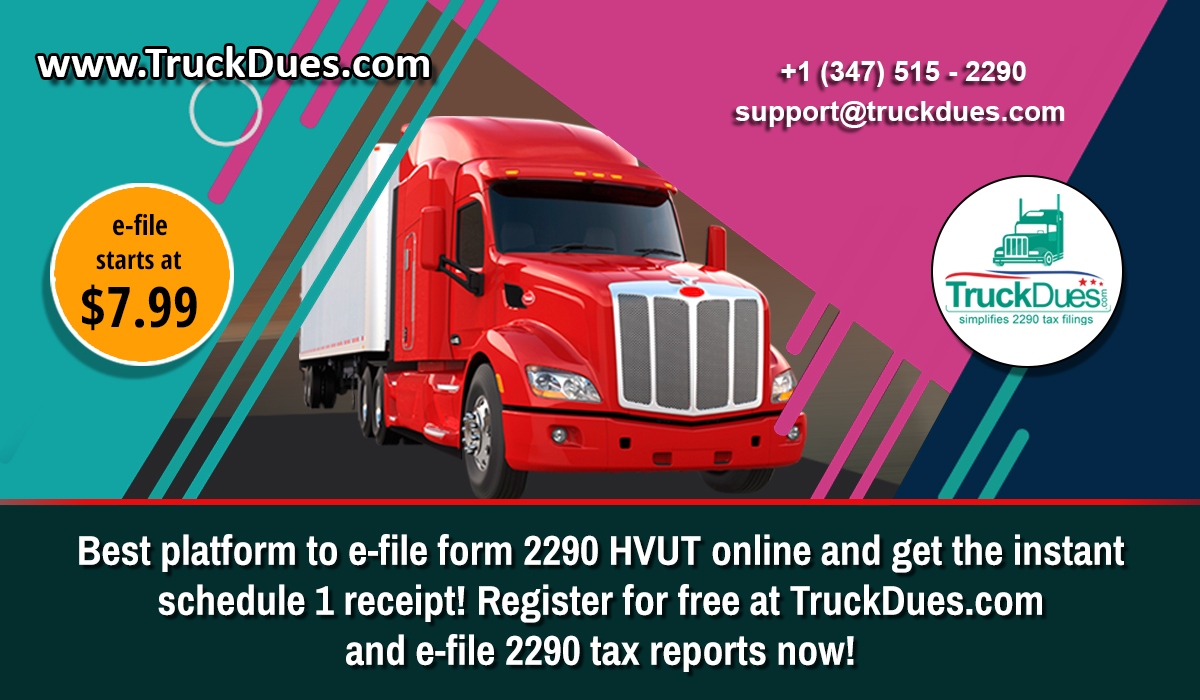 Things you need to e-file form 2290 online.
Let's start by providing your basic information and business details. After that, you need to provide all the appropriate information about your truck, including VIN (Vehicle Identification Number), combined taxable gross weight of your truck, EIN (Employer Identification Number).
The above details are mandatory to file and report your e-form 2290 online.
EIN is compulsory to report form 2290 online.
EIN is the Federal Tax Identification Number to identify a business entry. It is the system established by the IRS to identify and protect your identity. So, your EIN should match IRS records to successfully e-file your form 2290 online. If not, it would be rejected. If you don't have a valid EIN, you must get it by applying to the IRS.
Apply for refund claims and tax credits through the e-filing method.
You can apply for refund claims and tax credits for sold, damaged, or stolen vehicles from the IRS through e-filing methods. TruckDues has a separate section for e-filing highway tax claims and credits where you can easily apply online. Visit www.truckdues.com or reach us at (347) 515 – 2290 or support@truckdues.com. We have the best IRS 2290 customer service.
Tax calculator to estimate your form 2290 truck tax dues.
Truckdues.com has its own online truck tax form 2290 calculator to save you from that trouble. You should add the relevant details, which will calculate your estimated form 2290 tax amount.
Conveniently renew form 2290 tax reports.
You can log in to your existing account at truckdues.com and quickly proceed with the steps for form 2290 renewal. Or else, you can reach our customer service experts, who will help you renew your tax reports for the current season.
Secure online payment methods to pay your tax dues on time.
You can pay your truck tax form 2290 online by all the IRS-approved payment methods through truckdues.com. We offer a safe and secure payment gateway to facilitate your IRS payments successfully. The approved payment methods of IRS form 2290 online are,
Electronic Funds Withdrawal (Direct Debit)
EFTPS – Electronic Federal Tax Payment System
Credit/Debit Card
Check or Money Order
Pocket-friendly services charges to e-file form 2290 online at TruckDues.com.
The tax e-filing service providers are directly approved by the IRS and authorized to charge for their service from their customers for filing form 2290 reports online. Truckdues.com offers the cheapest e-file 2290 form online, among other service providers. Our e-filing of form 2290 online for a single vehicle starts at $ 7.99.
Stamped Schedule 1 receipt for Form 2290.
After completing online form 2290 reporting and payment, IRS will process and send your official digitally watermarked Schedule 1 receipt to your email within a few minutes. You can also download it from your TruckDues.com account anytime you want.