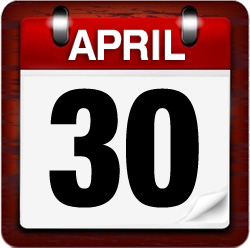 When April arrives our hearts are usually full of thoughts of renewal and fresh beginnings. These are the days when the sun is shining… it may bring us April showers but the warm showers are refreshing and invigorating because we know the sunshine will return soon.  We also have Easter celebration lined up for us this weekend.
Well, Festivity knows no boundaries and this especially stands true in case of Easter. Celebrated all across the globe with much pomp and vigor, Easter is one time when people bury their differences and gather together in hordes to mark the arrival of spring and the period to rejoice this day. It is the tradition of our greater nation to conduct special Easter parades, where men and women flaunt their special costumes and colorful bonnets and it would be a hell of a good time for one to be witness the happenings in person.
Wait… Did you just read, we said a New Tax Deadline? Well Yes, we got a Federal excise Tax Form 2290 Tax (HVUT) deadline in a Fortnight (by April 30, 2017) for vehicles that is used over the road beginning March 2017; this deadline can be easily understood by referring to the IRS rule that Form 2290 must be filed by the last day of the Month following the Month of its First Use.
Generally your Form 2290 expires by June and its payable until the end of August. Hence, the April 30, 2017 deadline ain't got anything to do with your regular Annual tax filings since you got time to renew your Schedule 1 (Proof of Filing your HVUT) until 08/31/2017. You are not liable for any taxes if in case you do not possess any vehicle that began its operation since March 2017.
Now that you are aware of your near term Form 2290 deadline, we kindly request you not to procrastinate until the month end to be a last moment filer.  As it never gets easier, you just get better. Should you have any doubts, feel free to reach us back @ (347) 515-2290 [Monday through Friday 9.A.M to 5. P.M, Central Standard Time] or e-mail us: support@truckdues.com.
Last but not least, here's a quickie,  " On Easter, 76% people bite off the chocolate bunny ears first, while 5% bite the feet first and 4% eat the tail first ".   We wish you a Happy Easter – filed with Happiness, Joy and Love.