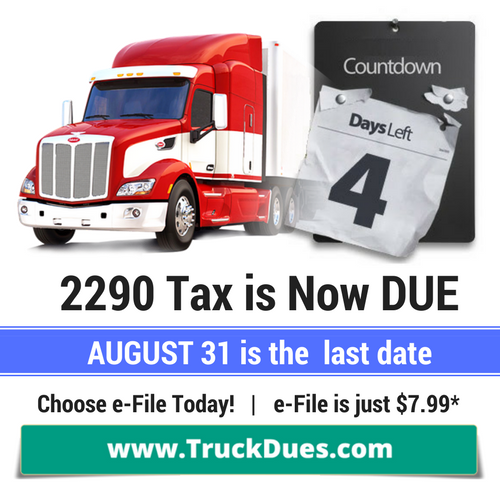 Truckers, it's now high time to E-file your Form 2290 for the period beginning July 1, 2017 through June 30, 2018. Several thousands of tax payers, who procrastinated on their HVUT deadline, would be braced now to E-file their Form 2290 at the very last moment. Things done at the last moment creates space for human errors. So, after you read this article you must be aware that you're almost near the deadline as its due in just 4 days and we don't want you to prolong it anymore.
Form 2290 is generally due by June and its payable until the end of August, on this basis your Form 2290 renewal is due for the Period beginning July 1, 2017 through June 30, 2018 as we merely got just 4 days left until the actual deadline. There are no extensions furthermore.
We realize that ever hard working truckers merely could spare time to renew them Form 2290 amongst their tight on road schedule, however it's our motto to make our truckers to stay away from the penalties & interests levied by the Internal Revenue Service.
www.truckdues.com is the simplest website where e-filing Form 2290 is done in minutes. Just answer few basic questions on the website and our application would automatically fill out your Form 2290 in the back-end and you can securely transmit your tax return to the IRS for acceptance.
As a result, you'd be able to receive the IRS watermarked copy of Schedule 1 in your registered e-mail address in few minutes. The same copy can be claimed as the legal proof of payment during your vehicle registration.
The sooner you e-file; the sooner you receive the IRS acknowledgment (The IRS Watermarked Copy of Schedule 1). Please feel free to reach our support team @ (347) 515 2290 [9. AM through 7 PM, Central Standard Time including weekends and all major federal holidays] or write us: support@truckdues.com or Live chat with our support team for instant help.