The IRS would go down for a routine year end maintenance schedule to upgrade the system for the new tax year. The impact would be on all the tax returns filed after December 26, 2020. IRS will not be available until 1st week of January 2021 to issue the acknowledgment proof. This would impact the Federal Vehicle Use Taxpayer reporting their heavy highway vehicle since July 2020. For vehicles operated for the first time in November 2020 will be due by December 31, 2020. We advised all the 2290 taxpayers to report it by the Christmas week to receive back the IRS watermarked Schedule 1 receipt. If you miss then you would not be able to receive a copy until 1st week of January.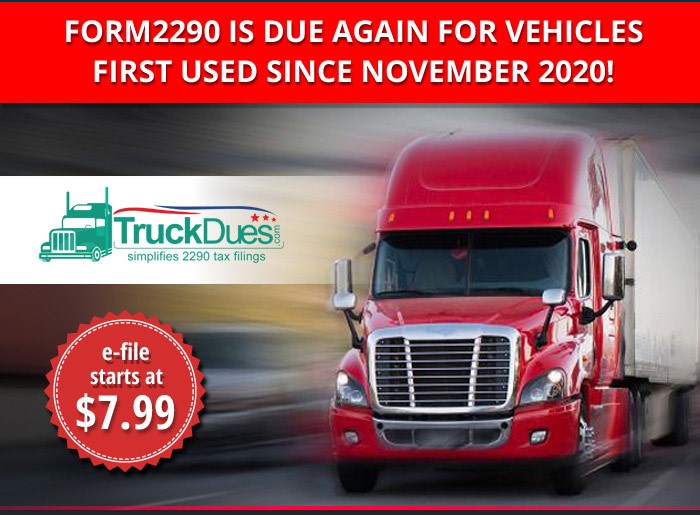 2020 IRS Maintenance Routine:
The business shutdown for tax year 2019 begins on Saturday, December 26, 2020. Submission transmissions end at 11:59 a.m. EST; acknowledgment retrieval from IRS ends at 11:59 p.m. EST.
This shutdown will prevent e-filing of business returns.
Any acknowledgements not retrieved by 11:59 p.m. on December 26th cannot be accessed until IRS opens in January 2021.
At that time the current and two prior years can be e-filed.
TruckDues.com is Available 24X7:
If you are due for your HVUT — Form 2290 taxes you can still use www.TruckDues.com to report it with the IRS for the Tax Period July 2020 — June 2021. We shall be holding the return safely and will get it processed with the IRS once they resume their service in the 1st week of January 2021.
For any further question please feel free to talk to our Support Desk at +1(347) 515 2290 or write to us at support@truckdues.com. We are working all the business days between 9:00 AM to 6:00 PM Central Time.
---