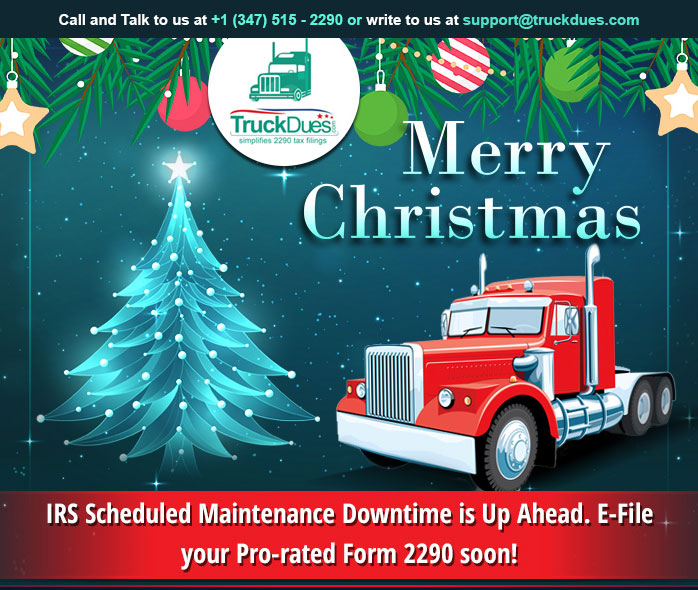 Hey there dear truckers! Hope you are safe and sound. Christmas celebrations are not to be missed as it brings comfort to the sour life amidst the covid-19 pandemic. It's time to trim the trees, wrap the gifts, and bake the cookies, As we eagerly await the arrival of Christmas!
Beyond the presents and the presence of family and friends that accompany us during Christmas and New Year's eve; It is helpful to remember to take some time to be thankful, to literally be present amongst the people who matter most in our lives, and to find some time for solitude to gather the inner strength that will carry us onwards and upwards in the new year.
Before the winter brings down the chills on you we are bound to inform you and keep you updated about your Form 2290 filings. It's not only us who are looking for a peaceful vacation, so does the IRS. The IRS would be under maintenance starting from December the 26th, 2020, and will resume services post new year. Any filings done within this time period will be on hold until New Year. So plan your taxes accordingly and file on or before 11:59 AM ET, December the 26th, 2020, so that you can get a timely response and enjoy your stay at home stress free.
December 26, 2020, will be the last day of the year for IRS to process your return and 2290s filed post December 26 would receive the schedule-1 copy only after they commence work. So what are you waiting for E-File your tax returns with us. Reach us @ (347) 515-2290 for any further assistance with your HVUT Form 2290 needs. Hope you found this article helpful. Let not the holiday mood go down, let's end this year with a cheer and hope for the best for the upcoming one. We wish you all a happy and prosperous new year!