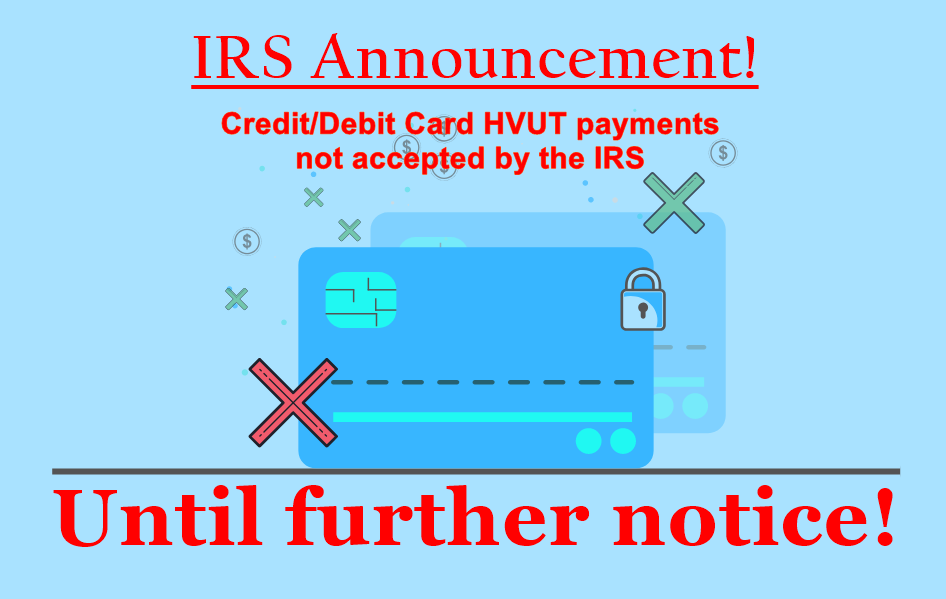 Hello dear truckers! Here we meet you again with yet another update regarding your from 2290's. Recently the IRS published a notification officially stating that they have stopped accepting payments using credit or debit cards until further notification. Paying using credit or debit card was the most opted way of payment mode for most of us know what to do in this case? Well, we do have 3 more options and let's see what can be done.
Other modes of payment:
EFTPS (Electronic Federal Tax Payments Systems)
For this mode of payment, you need to register yourself with the Federal website before you can opt for this mode of payment. EFTPS tax payment service is given for free by the U.S Department of Treasury. All that you need to enroll your self With EFTPS is the EIN (employer ID), Bank account number and routing number, Address and Name as they appear on your IRS tax document. On successful completion of enrollment, you will receive the login PIN in your Mail
EFW (Electronic Funds Withdrawal)
This is the easiest and hassle-free mode of payment when compared to all the other modes of payment. There is no need to register with any websites or wait for the PIN to be validated. All that you need to have is your bank account number and the routing number. When you file your return, you just need to opt for EFW and enter your bank details along with your filing and the IRS would automatically debit the amount out of your checking or savings account.
Sending a Check or Money order.
The traditional way of doing things right is still an option available when technology lets us down. On completing you from 2290 you will receive the watermarked schedule-1 copy which needs to be attached along with the check or money order and sent to Internal Revenue Service, P.O. Box 932500, Louisville, KY 40293-2500.
So these are the other modes of payment and we hope this would sort out some of your queries relating to choosing a mode of payment. Furthermore, updates on this would be posted to you and if any assistance needed relating your Form 2290's you know what to do! Just call us at 347-151-2290 and we will be happy to assist you. Happy trucking folks!