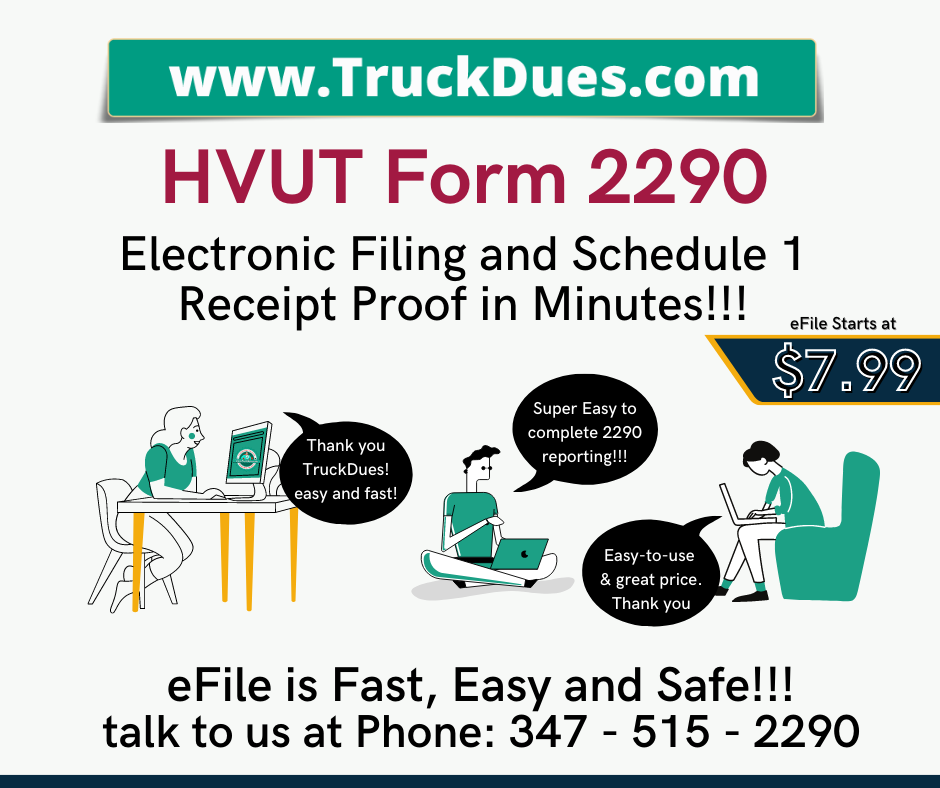 Truckdues offers a convenient online platform to benefit the great American truckers and the trucking industry. Truckdues.com is a perfect user-friendly application to e-file the HUVT form 2290 online. As IRS is now advising all the taxpayers to report and pay their taxes online, we offer a comfortable service that helps our users to file 2290 online. 
Truckduescom is the first company fully approved by the IRS as their modernized E-filing service provider. We are the pioneers in online E-filing heavy vehicle use tax and other similar taxes. And we got the opportunity to serve more and more American truckers during these pandemic times, as we provide an easy, contactless, and paper-free solution for paying the form 2290 tax. 
Since the launch of our website truckdues.com, the American trucking community has been showing tremendous support and availing our services to file their form 2290 HVUT returns online easily. We are repaying them with providing the best support and best prices than any other players in the market. As the support for truckdues.com is growing every day from our users, we are also innovating new things to serve our users more. 
Now, let us look at the unique features that make truckdues.com the best online partner to e-file form 2290 online: 
IRS mandates filing and reporting the HUVT form 2290 online for the truckers who own 25 vehicles or more in their fleet to ensure a smooth process. But, truckdues.com offers online e-filing form 2290 starting from just one vehicle for the benefit of the American trucking community.

 

Through truckdues.com, you will get the IRS authorized, digitally watermarked Schedule 1 copy directly to your e-mail within a few minutes. You can instantly print it and use it as legal proof of form 2290 tax returns. Whereas, while paper filing directly at the IRS, the Schedule 1 copy takes 15 to 45 days to arrive.

 

Truckdues.com is a clear and simple online application that comes with step-by-step instructions on e-filing the 2290 road tax online. Along with that, our customer support desk is available from 8:00 AM to 6:00 PM on all working days, where we solve all your queries within no time.

 

Free VIN corrections for the processed form 2290 tax returns through truckdues.com. We understand that mistakes can happen, so only we offer free VIN corrections to save our customers from trouble.

 
You can register with truckdues.com for free and save your business information in your profile for future uses. You can also track and save the history of previously e-filed form 2290 tax returns in your profile.

 

Truckdues.com has services suitable for all types of tuckers and operators in the form 2290 e-filing process. We serve single truck owner-operators, small & mid-size trucking companies, and large trucking corporates.

 

Truckdues.com online application has the unique 2290 tax calculator feature. You can choose your truck's first month of use, taxable gross weight, vehicle type, and the number of taxable vehicles to get the estimation of the payable highway tax.

 

Form 2290 pricing at truckdues.com starts at as low as $ 7.99, which is highly affordable for all the truckers and 2290 taxpayers.

 
You can always visit www.truckdues.com and e-file your HUVT form 2290 online from anywhere at any time and get your official IRS-approved Schedule 1 copy now!