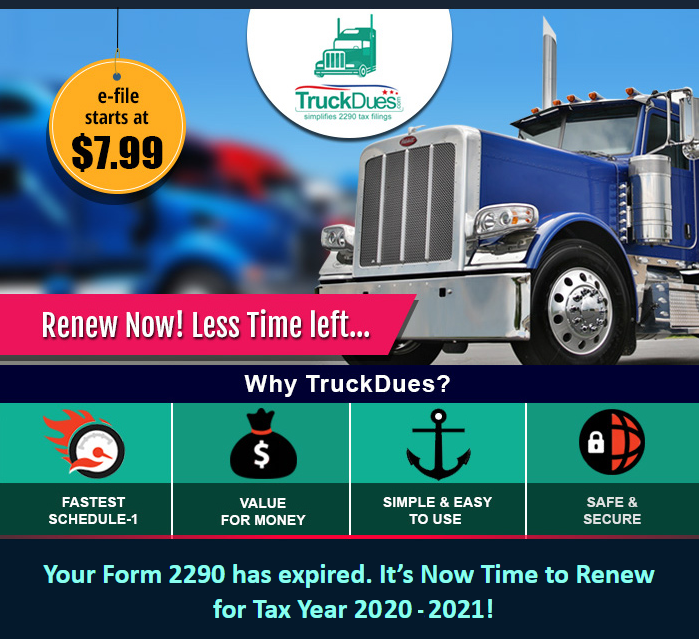 A month has passed by, yet the Form 2290 deadline has not..! The Form 2290 HVUT tax returns are due by the end of this month. Penalties for HVUT non-compliance are serious money; it is equal to 4.5 percent of total tax due, assessed on a monthly basis. Late filers who don't make an HVUT payment also face an additional monthly penalty equal to 0.5 percent of the total tax due. Additional interest charges of 0.54 percent per month accumulate as well.
Well, who would wish to spare the hard-earned money towards paying a late filing fee with interests, nobody right! Hence, don't hold up until the deadline to be the last moment filer that would make easy things hard and hard things even harder; that even tends us to commit mistakes over the Form 2290 while filing in a rush.
Form 2290 is generally due by June and its payable until the end of August having said that we just have a couple of weeks left for the deadline. Now are you a new user and Wondering how to get started? It's pretty simple. If you are a new user, log on to www.truckdues.com and click register to set up your business profile then report your vehicles over Form 2290 and to have your tax return filed & approved by the IRS ASAP. In case of you being a returning user, you just need to login to your account and follow the same procedure except registration. Pay only before filing your return as registration is absolutely free here.
The general turnaround time to receive an update from the IRS over your filed tax return would be 30-45 minutes. Hence, soon as you e-file your tax returns through www.truckdues.com just wait until few minutes to get a status update in your registered e-mail address. You can also opt for a FAX option by sparing $1 extra, in case you need to receive a hard copy version of the IRS digital watermarked copy of Schedule 1 in your FAX machine. The faded digital watermarked copy of schedule 1 would nicely serve as the proof of filing during your vehicle registration. Should you have any constrain amidst of your filing process, (or) any inquiries that you may have, Feel free to reach our Customer Support Team @ (347) 515-2290 or e-mail us: support@truckdues.com. And most importantly stay safe!