TruckDues.com is an online web tax preparation product supporting Form 2290, the Federal Heavy Vehicle Use Tax returns. We make sure that you get all comfort and pleasant experience while preparing your 2290 returns electronically. We simplified the steps, made it economic and affordable, we brought you easiness and enhanced the efiling experienced. Now we made it to be super fast and express filing guaranteed.
TruckDues.com is now adding a new feature called Return Clone, cloning a 2290 truck tax return when you have not changed the tax data such us the Business Name, Address or the Vehicle Identification Number, Gross Taxable Weight of the vehicle and the IRS payment option you can very much clone a return and file it for the new tax period and first used month without adding all the data again into a return. IRS Watermarked Schedule 1 receipt will be shared with you once it is accepted. Simply you can say redo a tax return for a new tax period!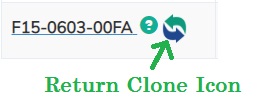 Sounds great right, 2290 efiling is much more faster at TruckDues Express, when you have to report a new 2290 return for a tax period. Click on the Return Clone Icon on the Dashboard next to the return ID. Select the Tax Period and the First Used Month to complete a return. Express filing and no need to key in all the data again in to the return when you have not changed any of the information available with us. The catch here is the return clone will be available only for returns that were accepted by the IRS and watermarked Schedule 1 was issued by them. Reuse a filed 2290 return for the new tax period and complete preparing in just 2 minutes!.
The sample dashboard image can illustrate from where you can initiate the TruckDues Express Filing option, the Return Clone functionality is to make sure you complete your 2290 efile in less time. This option will be available only for returns that were already accepted by the IRS and a Schedule 1 was issued for it.
Otherwise Getting Start with 2290 eFile is easy, just create a personalized account with your email and phone number. Start adding your business and vehicle details one by one and pick an option how you want to pay the IRS for the taxes you owe. Submit it and receive the Schedule 1 receipt instantly. To start with your 2290 return you would need all these details;
EIN – Employer Identification Number
Business Name with Address.
VIN – Vehicle Identification Number
Taxable Gross Weight
Signing Authority Details
IRS mandates EIN, the employer identification number to file your 2290 returns. You might not be able to file with your SSN. Always use your legal business name with the EIN, do not use a DBA, Doing business as name. 2290 eFile can help you file your return error free. IRS encourages every carrier to report 2290s online as it is easy and safe, IRS can also process your return and issue back the Watermarked Schedule 1 proof without any delay. The IRS mandate electronic filing for truckers reporting 25 or more vehicles in a tax return. You have bundle of features and merits to choose electronic filing for your 2290 tax reporting with TruckDues. We're the Owner Operators and Small Trucking companies preferred choice to eFile 2290 returns, goes easy with your pockets and stress free e-filing guaranteed.
2290 Call Support: Talk to our Support Desk at 347 – 515 – 2290 or 855 – 615 – 1040, you can also write to us at support@truckdues.com. We're working from 9:00 AM to 6:00 PM Central Time on all business working days. Reach us to serve you with the best 2290 e-Filing service and receive IRS watermarked Schedule 1 receipt in minutes.