Hello, truckers! The new tax season is here, and every truck taxpayer must file their form 2290 tax reports to the IRS or renew their truck taxes for this tax period. Form 2290 HVUT is the excise tax for all the taxable heavy vehicles or trucks to operate on the public highways of the United States. All the truckers and trucking taxpayers should report the form 2290 tax reports to the IRS before the deadline and get the schedule 1 copy as proof of payment.
Trucking is one of the most important businesses in America. Truckers are working hard to drive our nation to the path of glory. Therefore, TruckDues.com takes this opportunity to wish the amazing trucking community a happy Independence Day. Let us all celebrate this fourth of July with the spirit of freedom to accomplish more and more in our business.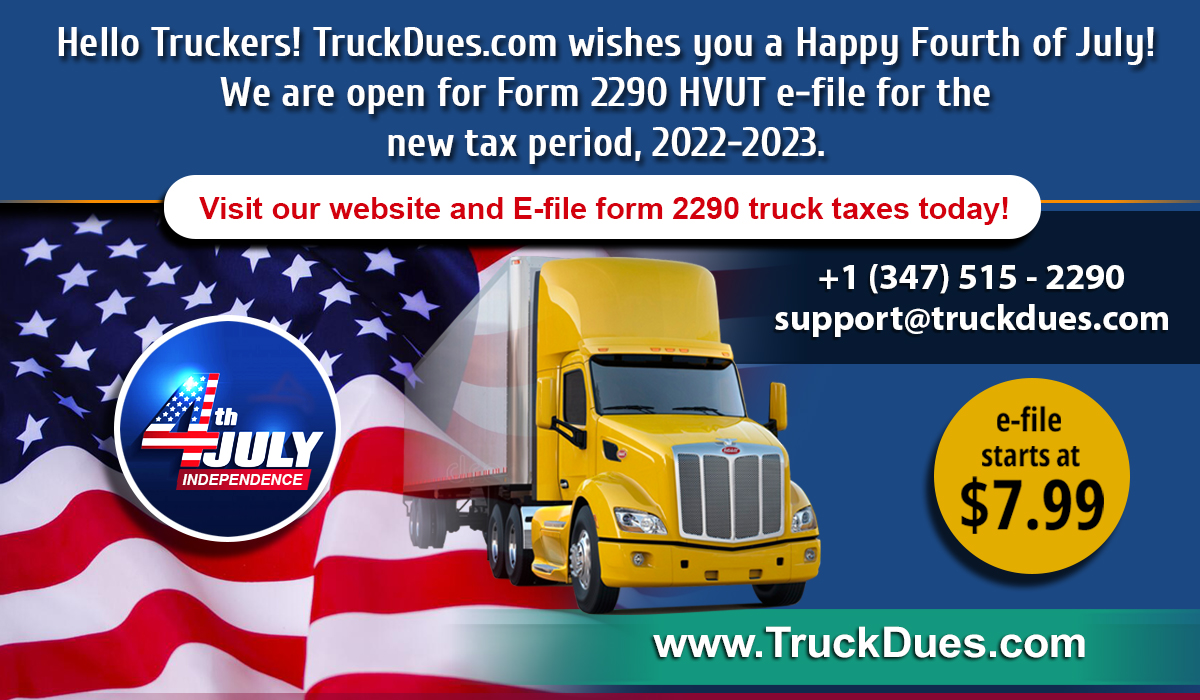 Truck taxes are mandatory for taxable vehicles.
All taxable heavy vehicles are liable for HVUT form 2290 tax payments. The heavy vehicle should have a total gross weight of over 55,000 pounds, and it must be estimated to have a mileage of 5,000 miles (7500 miles for logging vehicles) to fall into the category of taxable vehicle. All such vehicles should report and pay their truck taxes using the form 2290 to the IRS every year to operate their business on the public highways. The heavy vehicles that don't fall into the taxable category also should report form 2290 as tax suspended vehicles. These vehicles are not liable for any tax payments.
E-file Form 2290 at TruckDues.com!
TruckDues.com is an IRS-approved modernized online e-filing service provider for form 2290 HVUT. You can easily register at TruckDues.com and e-file form 2290 in just a few steps. The entire form 2290 e-filing process doesn't take much time; you can finish it in a few minutes and get the official IRS schedule 1 copy immediately to your registered email. You can print the schedule 1 copy and use it for all the legal purposes like insurance, registration, license renewal etc.
Truckdues.com made form 2290 e-filing smooth, accurate and available 24/7. You can e-file form 2290 online with your PC, laptops, tabs or smartphones from the comfort of your home or office. Your days of fixing up an appointment with the IRS, driving there, waiting there to report your truck taxes or mailing your tax reports and waiting for weeks to receive your schedule 1 copy from the IRS are officially over. You can simply choose to e-file form 2290 at TruckDues.com, complete your form 2290 tax reports in a few minutes, transmit them to the IRS and get the schedule 1 copy to your email instantly.
Form 2290 e-file costs just $7.99 for single-vehicle returns at TruckDues.com. You can contact our customer support desk at 347 – 515 – 2290 for all your queries, or you can write to us at support@truckdues.com. We will revert to you shortly.
We wish you a happy fourth of July once again!