Hello, truckers! Truckdues.com takes pride in serving you with form 2290 online e-filing solutions and making things easy for you to report and pay form 2290 truck taxes to the IRS. Truckers, owner-operators, trucking conglomerates, CPAs, and other truck taxpayers benefit significantly from our services. The first and foremost thing they find most helpful is our pricing structures. We provide the most pocket-friendly form 2290 HVUT online e-filing services than any other service provider in the market. From single-vehicle taxpayers to bulk taxpayers, our platform provides the best form 2290 online e-filing solutions at highly comfortable rates. We provide free VIN correction services for our customers. TruckDues.com also offers form 2290 amendments e-filing, form 8849 schedule 6 truck tax refund claims at the lowest prices.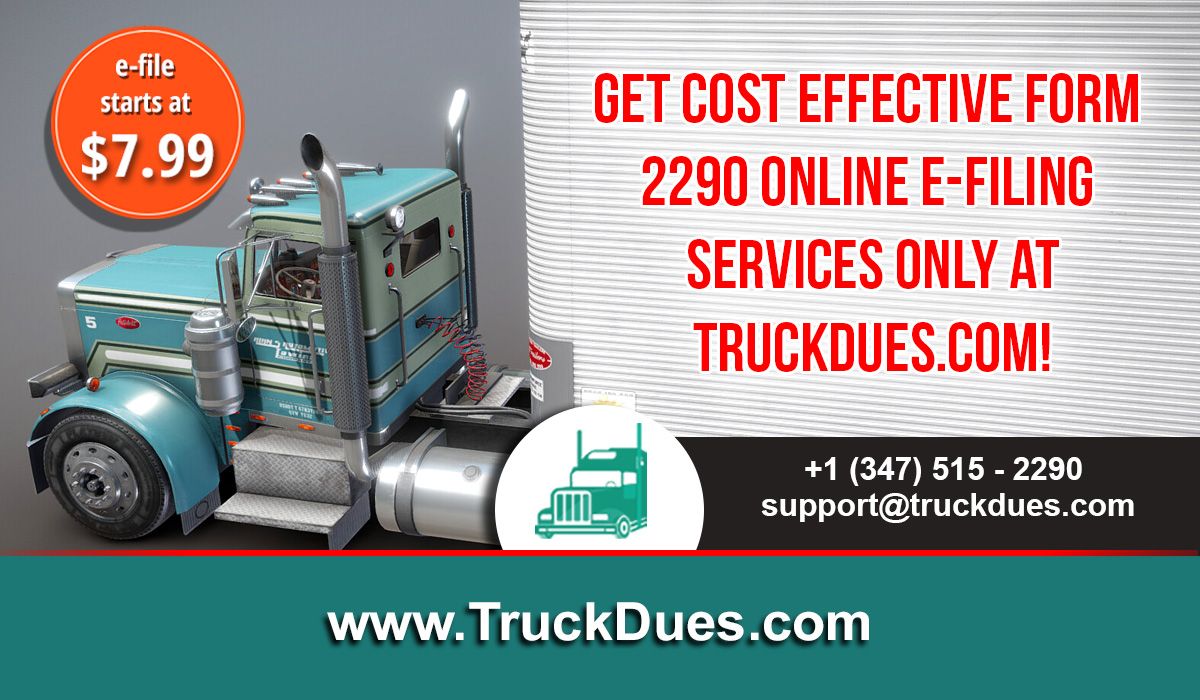 Form 2290 e-filing service charges.
TruckDues.com offers the lowest price to e-file form 2290 HVUT online to the IRS directly. The service cost to e-file form 2290 for a single heavy vehicle is $7.99; for two heavy vehicles, it's $14.99; for three heavy vehicles, it's $19.99; for four heavy vehicles, it's $24.99; and for five heavy vehicles, it's $29.99. You can avail of the package pricing for e-filing form 2290 for more than six to twenty-five heavy vehicles at $49.99 and twenty-six to one hundred vehicles at $99.99. We offer the best pricing structures to e-file form 2290 efficiently.
Also, we offer the most economical pricing structure to e-file form 2290 HVUT for an unlimited number of heavy vehicles. Our costs for e-filing 2290 for unlimited heavy vehicles in a single return are $139.99, and unlimited returns are $199.99.
FREE VIN corrections!
TruckDues.com offers VIN correction services at no cost. Truckers who mistakenly reported their 2290 tax returns with the wrong VIN at TruckDues.com can re-apply for free and get the revised schedule 1 copy free of charge. But the free VIN correction service applies only to taxpayers reported and paid form 2290 through TruckDues.com. Others can avail of the same service at just $9.99.
Form 2290 Amendments e-filing charges.
TruckDues.com offers form 2290 amendments at just $9.99. Truckers and trucking taxpayers can e-file 2290 amendments when there is a change in the weight category of their heavy vehicle or their tax-suspended vehicle enters the taxable category.
Form 8849 Schedule 6 refund claims online e-filing charges.
Truckers can claim credits and refunds on their paid 2290 truck tax amount using the form 8849 schedule 6 in TruckDues.com at just $11.99. TruckDues.com has made the refund claims process easier and more accessible for truckers to e-file form 8849 schedule 6 online.
For more queries regarding our pricing structures, package deals, discounts, and offers for taxpayers and tax preparers, please get in touch with our customer support team at (347) – 515 – 2290 or write to us at support@truckdues.com.