Hello, truckers and trucking taxpayers! It is always better to have options in everything we do, right? What if we tell you that you have a convenient option to report your Form 2290 HVUT returns to the IRS? Instead of paper filing your Form 2290 tax returns every season, you can e-file Form 2290 online on TruckDues.com from the comfort of your home or office. Also, the IRS already made Form 2290 e-filing compulsory for truckers reporting truck taxes for 25 or more vehicles in their fleet because it has been proven that Form 2290 e-filing is comfortable and convenient for the truckers to file their HVUT returns and for the IRS to process those returns without any hassle.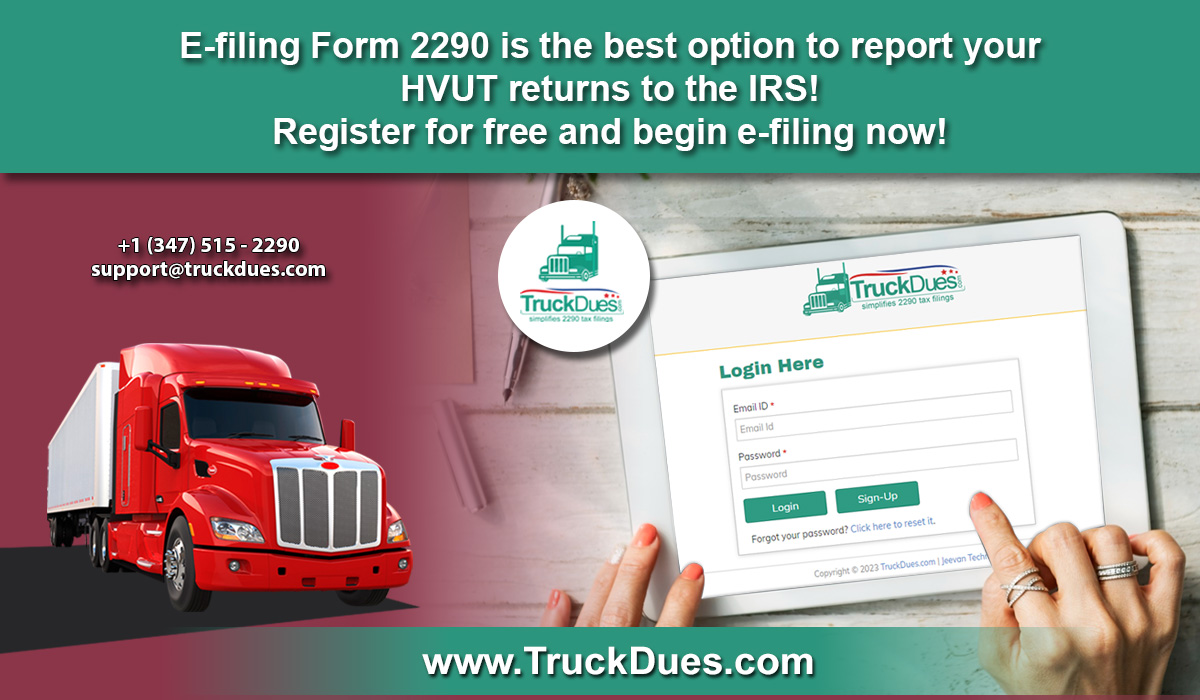 TruckDues.com is an IRS-approved Form 2290 HVUT modernized e-filing service provider; let us look into why e-filing Form 2290 is the best option to file your truck tax returns!
Quickest – You don't have to be present physically at the IRS office to file your tax returns. You can e-file Form 2290 on TruckDues.com directly to the IRS from the comfort of your home or office. IRS will process the tax reports online and do the needful.
Convenience – All you need is a smart device like a PC, laptop, smartphone, or tablet device and a strong internet connection. You can finish and report Form 2290 returns to the IRS in a few minutes and continue your work.
Timely guidance – TruckDues.com has dedicated customer care services where you can contact our team to sort out any doubts and queries regarding the IRS Form 2290 and Form 2290 e-filing.
Simple and Secure Process – You can complete your Form 2290 e-filing process in a few simple steps. Our platform is highly safe and secure with ironclad protection technology. Every piece of information you enter, and every transaction you make are end-to-end protected.
Immediate Schedule 1 receipt – You will get the IRS digitally stamped Schedule 1 receipt instantly to your registered email address once the IRS processes your tax returns. You can print and use it as proof of Form 2290 tax payments.
FREE VIN Correction – TruckDues.com grants its users free VIN correction for incorrect VIN entries and typos. You can apply for VIN correction free of cost in your tax returns and Schedule 1 receipt.
Highly Accessible – TruckDues.com is available 24/7. You can access your profile and tax records around the clock. You can also begin your e-filing process anytime you wish, stop in the middle, save the progress, and come back later to continue right where you left.
Value for Money – You can register for free at TruckDues.com. Reporting Form 2290 tax returns for a single vehicle cost just $7.99 on our platform. Also, there are attractive package pricing available for multiple vehicles filing. You can choose the package at your convenience.
Therefore, E-filing Form 2290 online on TruckDues.com is the most brilliant way to get the job done. Start your e-file now!