Boo! It's that time of year for spooky costumes, jack-o'-lanterns, and the sweet aroma of candies to fill the air. In this season of trick or treat, don't fall for the trick of the IRS to charge you with penalties, late fees, and interest on your tax dues for missing the deadline. Instead, let TruckDues.com treat you with timely Form 2290 e-filing and instant Schedule 1 receipt for your September used heavy vehicles. As per the IRS regulations, today, October 31, 2023, marks the deadline to report and pay Form 2290 HVUT returns on a pro-rated basis for the heavy vehicles or trucks first used on September 2023. So, we request all truckers and trucking taxpayers with September used heavy vehicles to report pro-rated Form 2290 returns on TruckDues.com, as today is the deadline.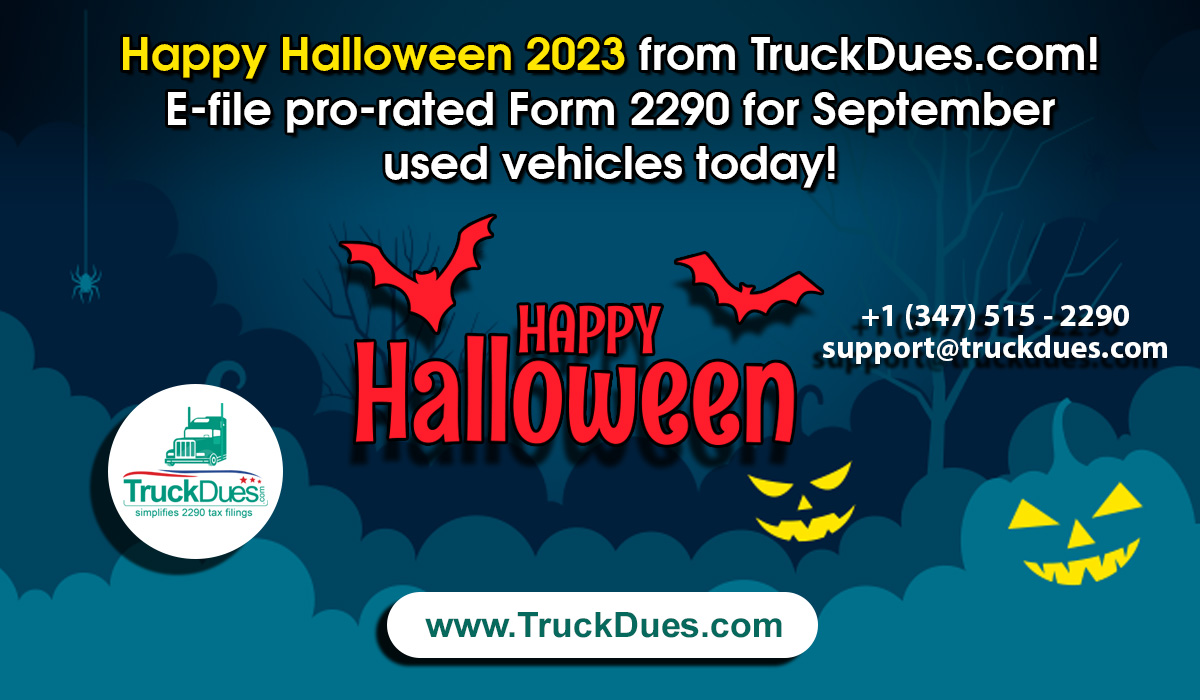 Today is the deadline to report pro-rated Form 2290 for September used vehicles.
Form 2290 is the IRS form in which truckers and trucking taxpayers must pay their Highway Heavy Vehicle Use Tax to the IRS for operating their heavy vehicles or trucks on public highways. Generally, truckers should report Form 2290 HVUT returns during the beginning of the tax period, which starts in July and ends next June. Therefore, they must report or renew their truck tax using the IRS Form 2290 for the entire tax period by the end of August every year. IRS charges Form 2290 taxes on a pro-rated basis based on the first used month of the vehicle for the trucks used away from the tax period and newly purchased vehicles any other month than July. The deadline to report pro-rated 2290 taxes is the end of the following month of the vehicle's first used month. In this case, you must calculate your 2290 tax reports from September 2023 to June 2024 and report the taxes by the end of October.
E-file pro-rated Form 2290 on TruckDues.com today!
TruckDues.com is an IRS-approved Form 2290 e-filing service provider offering an easy and efficient way to report your pro-rated 2290 tax returns for September used vehicles. Instead of spending your Halloween time preparing taxes and standing in queues, you can complete the entire pro-rated 2290 returns preparation in our platform from the comfort of your home/office using your PCs and smartphones. So, E-file pro-rated Form 2290 truck taxes for September used vehicles on TruckDues.com and get the instant Schedule 1 receipt to your registered email ID. Remember, the scariest thing this season should be your costume, not your pro-rated tax returns! Form 2290 e-filing charges start at just $7.99 on our platform. For more queries, contact our customer support team at (347) – 515 – 2290 or write to us at support@truckdues.com.