TruckDues.com is one of the leading online platforms that provide all form 2290 HVUT e-filing services to benefit the trucking community of the United States. You can readily use TruckDues.com to report your truck tax amendments directly to the IRS and instantly get the appropriate schedule 1 receipt. You don't have to wait weeks to report your amendments and get the revised schedule 1 receipt for your heavy vehicle; every process is fast, automatic, accurate and secure on TruckDues.com. So, log in to your TruckDues.com account and e-file form 2290 amendments for your trucks now!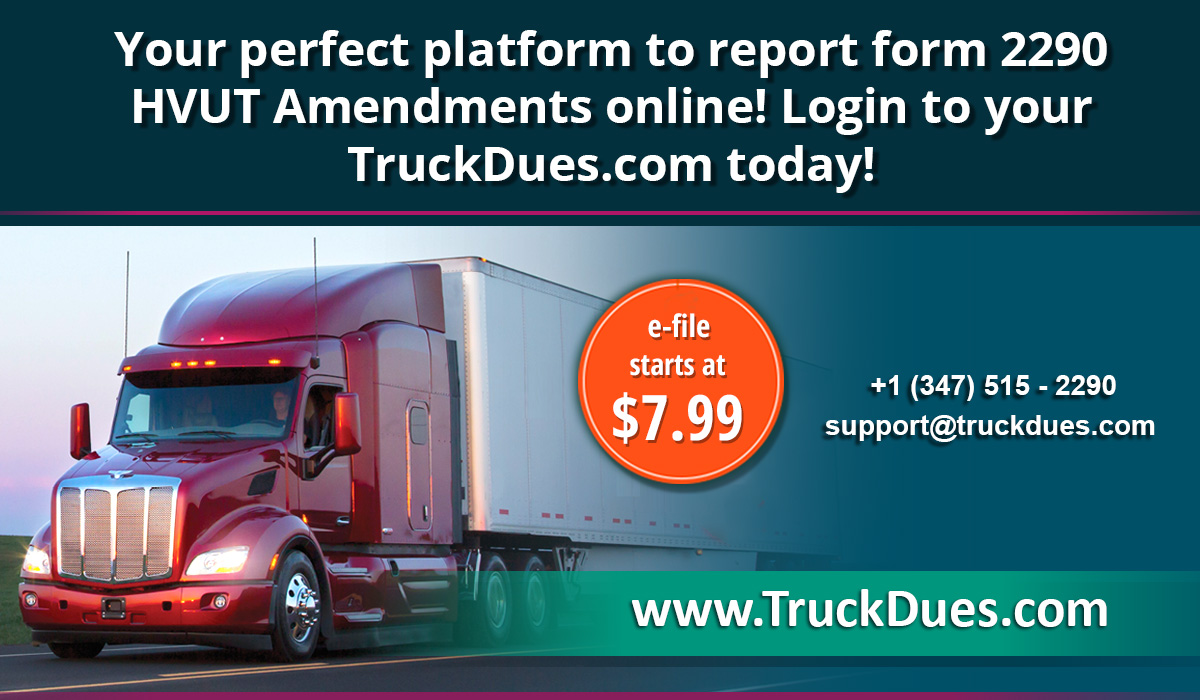 IRS allows the truckers and truck taxpayers to report form 2290 amendments for their heavy vehicles or trucks when there is a change from their previously reported form 2290 HVUT returns. Truckers can file amendments under two categories as per IRS regulations: an increase in total gross weight and exceeded mileage limit. You must report for 2290 amendments if your weight category increases from one category to another. Also, you must file for amendments when your tax-suspended vehicle exceeds the mileage limit and becomes taxable.
Increase in total gross weight of your heavy vehicle
You must report form 2290 amendment under this section once form 2290 reported weight category shifts from one weight category into another category. If your heavy vehicle or truck's total gross weight has increased, you must file a 2290 amendment in this category and get your revised form 2290 schedule 1 receipt. You will run into problems with state and federal authorities if you don't have a proper schedule 1 copy of your heavy vehicle.
Exceeded mileage limit of your heavy vehicle
When a tax-suspended vehicle travels more than 5,000 miles (7500 miles for logging vehicles) on the public highways without the end of the ongoing tax period, the truckers must file for a form 2290 amendment under this category, pay the tax dues and get the revised schedule 1 receipt from the IRS. You can easily e-file form 2290 amendment under this category at TruckDues.com, upload all proofs and get the schedule 1 copy directly to your email.
Perfect Form 2290 Amendments E-filing Solutions!
TruckDues.com is an IRS-approved form 2290 online e-filing service provider giving out all form 2290 services at the most affordable rates. You can e-file your 2290 amendment reports from the comfort of your home/office using your PC and smartphone. TruckDues.com offers the best 2290 amendments e-filing services in the market. You can select your proper category and report the amendment in a simple step-by-step process. Once you transmit your 2290 amendment reports to the IRS, you will instantly get the revised schedule 1 receipt to your registered email address. Contact our customer executive at 347-515-2290 for all your form 2290 amendments e-filing queries. They are available at your service on all working days from 8 AM to 6 PM EST. Also, you can write your queries to support@truckdues.com, and we will reply to you as soon as possible.