TruckDues.com is fast, safe and simple to have your HVUT returns processed with the IRS and receive the Schedule 1 receipts instantly.
Truckers Tax Season on full swing, the Deadline is final on and you have less than 12 hours to complete and pay the Federal Vehicle Use Tax returns with the IRS. The heavy motor trucks would incur a maximum of $550 as HVUT tax and has to be paid by August 31. Missing this time line you would end up paying penalties, interest on tax amount and late filing charges.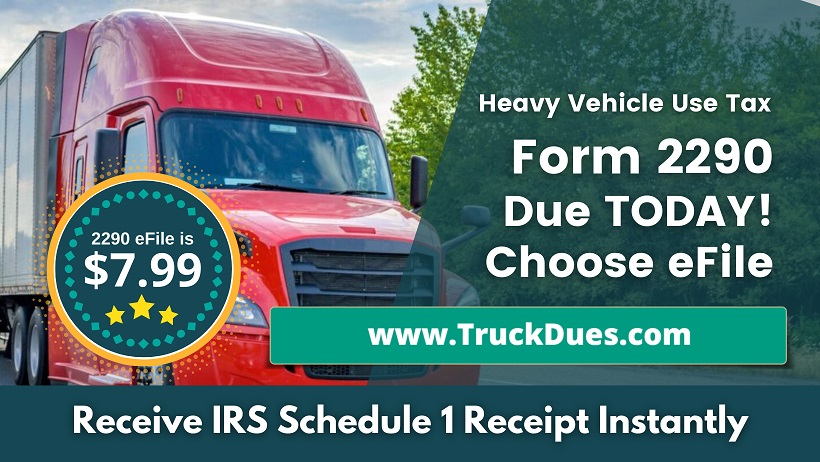 Truck Tax Form 2290?—?Heavy Vehicle Use Tax reporting
Truckers are familiar that the Form 2290 is used to report the Heavy Vehicles Used on public highways and to pay the taxes for their vehicles by August 31 for vehicle that is used in July 2021. Generally the tax period from July 1, 2021 till June 30, 2022 and the taxes are due and to be paid before August 31.
Any motor vehicle with a taxable gross weight of 55,000 lbs or more used on a public high way it is liable for paying the Heavy Vehicle use taxes which will be due by July 1 and the dead line will be by August 31. If your vehicles are used on the highway less than 5,000 miles (7,500 for agricultural trucks) you are exempt from taxes however you still need to report your vehicle to the IRS declaring the vehicle under "Suspended Vehicle" category. And if you use multiple vehicles in more than one month each vehicle should be reported separate regardless to being an individual, Limited Liability company (LLC), corporation, partnership or any other type of organization(including non-profit, charitable, educational, etc.,).
August 31 Filing Deadline for Form 2290?—?HVUT
Trucks are to be reported annually and when reported , the IRS will process the request and issue with a Copy of Schedule-1 watermark (stamped) as proof of filing for taxes purposes if done through e-filing and you will get a stamped copy of schedule-1.
The IRS tax form 2290 is an annual tax paid to the Internal Revenue Service. It is due by June of every year and its payable until August. Hence, the current tax year would be July 1st, 2021 through June 30th 2022 and the tax payment are made full in advance for the respective period the truck was operational over the road.
However on the other hand, for vehicles which were partly operational during the year the Form 2290 due date happens to be the last day of the month following the month of its first use.
Electronic Filing?—?Self Serviced at TruckDues.com
2290 e-File is economic and inexpensive, the best available option than engaging a paid preparer as it would cost them is $$$. Our support desk is available to walk you through the process one by one and be with you till you complete it. We could see the excitement once they are done with this preparation on their own, when they're returning for their next return they do it by themselves. Build's confidence and saves them big on preparation fee etc. By filing electronically, the IRS stamped (watermarked) schedule-1 receipt is also received in minutes which helps them to register/renew their plates in short time frame. No more driving downtown to a local IRS office, standing in line and spending a day to complete 2290s. At the comfort of filing from home/on-road saves them time.
Electronic Filing is $7.99 only at TruckDues.com
Each awakening moment of our lives, we look around for methodologies that doesn't rip our pockets and leave us broke? Well, you need to be a trucker or an owner operator to file and report tax for yourself, spending the least on tax filing. The logic is simple?—?why pay more when you can spend only $7.99 for single truck filing?
2290 e-File starts at $7.99 for a single vehicle return! "The Best Price" in the market. Economic, Affordable and Inexpensive service. Every trucker irrespective of your fleet size, can electronically report the 2290 HVUT returns with the IRS.
When we say that HVUT #Form2290 efiling is less than $8 of cost, we live by it totally. There is no additional cost or any hidden fee to prepare #HVUT returns. You may try and file your Federal Vehicle Use Tax anytime from anywhere. Our software works round the clock. TruckDues.com
Our experts at your side while you efile your 2290 tax returns. Connect with expert support team and get the needed guidance and support. We work on all the business days between 9:00 AM to 6:00 PM and a phone call away, reach us at 347 – 515 – 2290 or write to us at support@truckdues.com