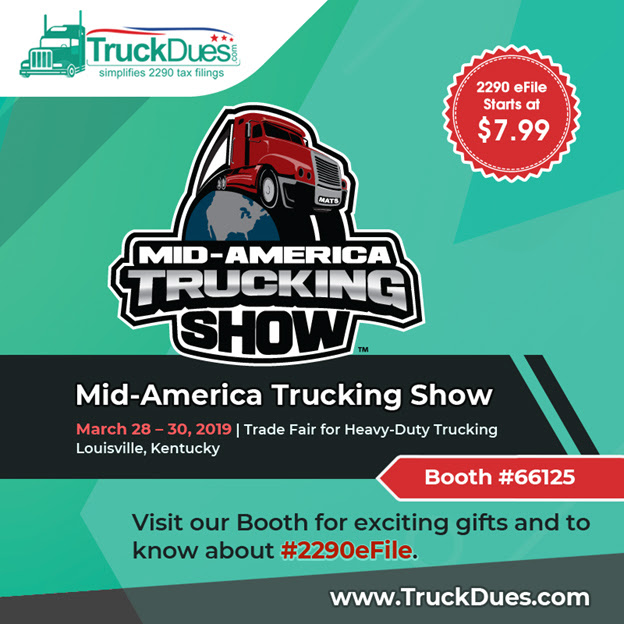 Yes, you indeed read that correct! Just Like you, we are really excited to be a part of one of our Country's most iconic trucking shows that is been hosted every year, It's nevertheless the Mid-American Trucking Show (MATS) 2019. Besides, what keeps us more excited is that we are honored to meet & serve our ever hard working members of the Trucking Industry as we have enrolled to be an exhibitor to explain our services and capabilities during the upcoming 2019 MATS show.
The 2019 edition of Mid-America Trucking Show (MATS) will be held at Kentucky Exposition Center, Louisville, KY beginning 28th, March 2019. It's a 3 day event to witness the entire industry's presence to see what is currently trending in the Trucking, the Recent Technological Updates to streamline enhanced operations across the industry, & to listen to Expertise Reviews on the Trucking Business and so on.
Truckdues.com, an IRS authorized electronic return originator to e-file the Federal Tax Form 2290 (Heavy Highway Vehicle Used Tax Return) has been serving our nation's largest economy contributor (Trucking) over the last 5 years, at very honest unique pricing $7.99 understanding the fact that how hard it is to be a trucker and work tirelessly to meet the nation's demand. They almost leave their loved ones behind to serve our nations demand on-time.
We have gained our overwhelming trust among a major share of Independent Owner operators in the United States, and a drastic number of trucking companies who ensures that the "Right things gets delivered at right time" to our people at any cost. So don't we all have to extend our gratitude to serve them back? So we did! That's why we chose this tax preparation profession with a bottom line to serve our beloved truckers with their HVUT Form 2290 tax filing needs at a very nominal pricing (As Low as $7.99) with no discrepancies in the quality of multiple services that we offer as we strictly remain adhered to our motto "Our SALES may go up or down; but our SERVICE stays forever"
During the show, you may find us, Truckdues.com a product of Jeevan Technologies Inc. at Booth: 66125. In order to extend our gratitude towards the ever hard working trucking community we intend to offer freebies like cool t shirts, key chains and other accessories with embraced trucking lines. You may also refer to the printed show directory which would help you to manage your time effectively throughout the show. You can find the show timings over the course of its tenure as stated below.
Show Hours:
March 28th, 2019 Thursday VIP – 10AM to 1PM
March 28th, 2019 Thursday –   1PM to 6PM
March 29th, 2019 Friday –        10AM to 6PM
March 30th, Saturday –          9AM to 4PM
We look forward to building a strong business relationship in the future with your HVUT Form 2290 needs. See you soon at the MATS 2019. Keep Trucking, Keep Moving America Forward.