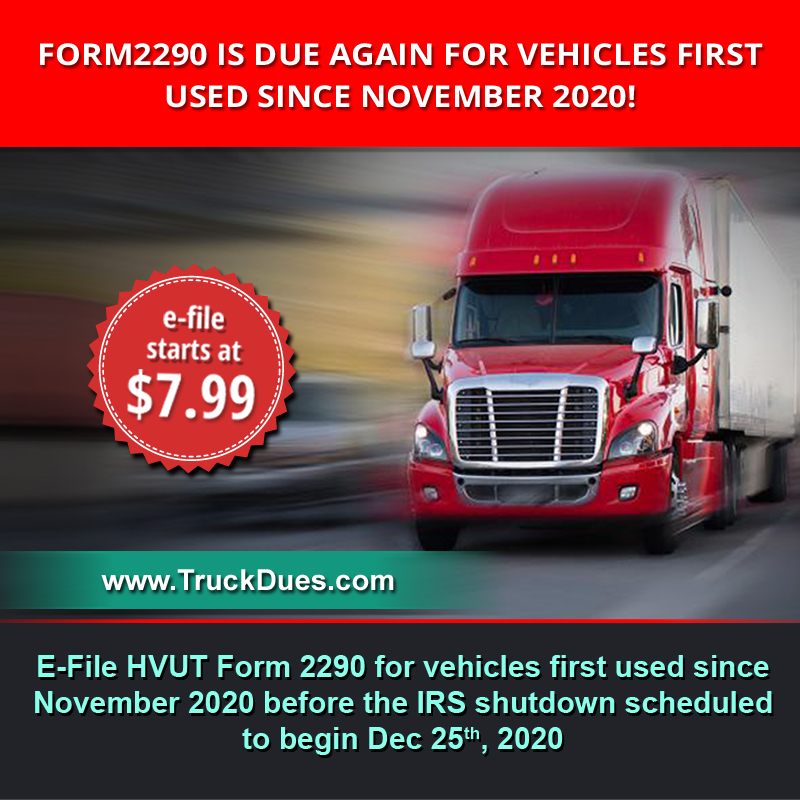 Wow, a year has just gone down in a flash didn't it? it has been a rough year but we all had a whole year with our family together as one and faced the pandemic with caution. Let the countdown begin as the year 2020 comes to an end and so does the pro-rated filing for your trucks.
The Prorated tax concept is basically calculated from the month of the vehicle's first use. That being said the payment date would be your next question. Well, as per the IRS the "Prorated taxes are to be paid by the last date of the month following the month in which it was first used". So the taxes for the vehicles bought by November is NOW due and the deadline to pay with no penalties would be 31st Dec 2020.
What will you possibly incur if you don't pay the 2290 tax dues on time? Well that's simple, the IRS will charges a fee for failure to file and failure to pay at a rate of 4.5% and a penalty of 0.5% of the taxable amount. So think twice before you fall behind your HVUT Form 2290 Deadline.
Here at TruckDues.com this process is made simple and tax calculations are done automatically such that the website itself will do the math and notify you the computation. This will help you in saving your valuable time amidst off your busy on road schedule.
So what are you waiting for? Rush now just log into TruckDues.com to e-file your Pro-rated HVUT Form 2290. You are just few clicks away from being able to transmit the return to the IRS and receive the watermarked copy of Form 2290 schedule-1 to your registered email address
You know where to contact us, just call us at 347-515-2290 or simply drop an email to support@truckdues.com our team of experts is at your disposal to meet your 2290 needs. Let's make the end of the year go down in style and worry about our families happiness let us take care of your taxes so that you can have a great holiday season.