Dear truckers! On black Friday, register at TruckDues.com for free and e-file form 2290 on a prorated basis for your October used heavy vehicles/trucks to stay ahead of the deadline. Form 2290 truck reports for the heavy vehicles first used in October are due on a partial period basis by the end of November. Therefore, truckers with October used heavy vehicles must e-file form 2290 and get the stamped schedule 1 receipt to continue their operations on the public highways.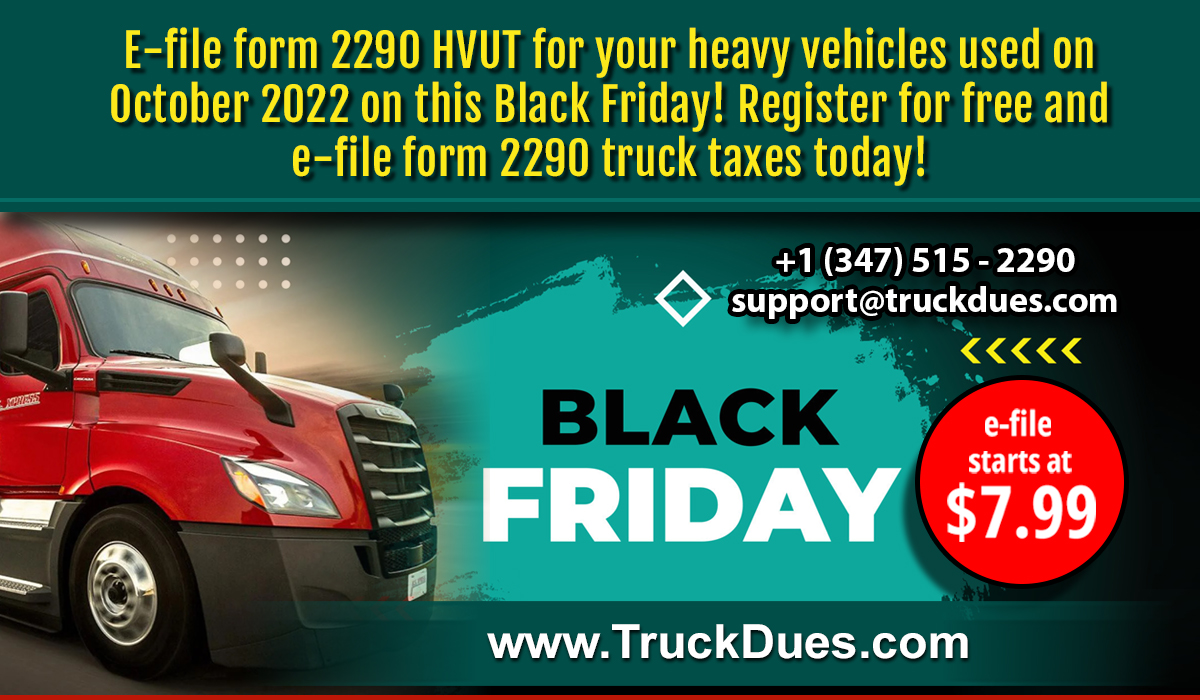 Prorated taxes are due for October used heavy vehicles.
A tax period starts in July and ends next June. Therefore, truckers and truck taxpayers must report their HVUT using form 2290 to the IRS in advance for the entire tax season. The deadline to report form 2290 truck taxes for the general tax period is the end of August. But for the truckers with newly purchased trucks or heavy vehicles used for trucking operations any other month other than July, IRS charges form 2290 HVUT on a partial period or prorate basis. It is calculated from the heavy vehicle's first used month till the end of the ongoing tax period. And the last date to report the 2290 prorated taxes is the end of the following month of the vehicle's first used month. Here, prorated 2290 taxes are calculated from October to June, and the deadline is the end of November. The IRS is very strict about deadlines, so you must ensure that you report your taxes on time. If not, the IRS will charge you penalties, late fees and interests on your tax dues.
All taxable vehicles are eligible for 2290 tax payments.
All truckers must report and pay form 2290 truck taxes for their taxable heavy vehicles and trucks. Heavy vehicles or trucks must have a total gross weight of over 55,000 pounds and be estimated to cover more than 5,000 miles (7500 miles for agricultural vehicles) to become taxable. Truckers with heavy vehicles that don't belong to the taxable category should report form 2290 as tax-suspended vehicles. There are no tax payments for tax-suspended vehicles.
E-file prorated form 2290 at TruckDues.com today!
TruckDues.com is an IRS-approved form 2290 online e-filing service provider offering perfect 2290 e-filing solutions for all truckers and trucking taxpayers. You can register for free at TruckDues.com and e-file form 2290 truck taxes smoothly and accurately. Our platform is online and available 24/7; you can readily access it anytime you want from the comfort of your home/office using your smart devices. We offer pocket-friendly form 2290 e-filing services at $7.99 per tax return. Therefore, e-file form 2290 HVUT on a prorated basis for your October used heavy vehicles and got the stamped schedule 1 receipts before the deadline. For further assistance, contact our customer support executives at + 347 – 515 – 2290 or write us at support@truckdues.com.