Dear truckers! TruckDues.com is taking this opportunity to remind you that form 2290 truck taxes for April 2023 used trucks are due on a pro-rated basis. The last date to report the pro-rated truck taxes for April used heavy vehicles, and trucks is May 31, 2023. Therefore, truckers with heavy vehicles or trucks first used in April must report form 2290 and get the valid Schedule 1 receipt to continue their trucking operations on the public highways. And TruckDues.com is the right place for you to report form 2290 pro-rated taxes and get the IRS Schedule 1 receipt on time. Register for free on TruckDues.com and stay ahead of the deadline today!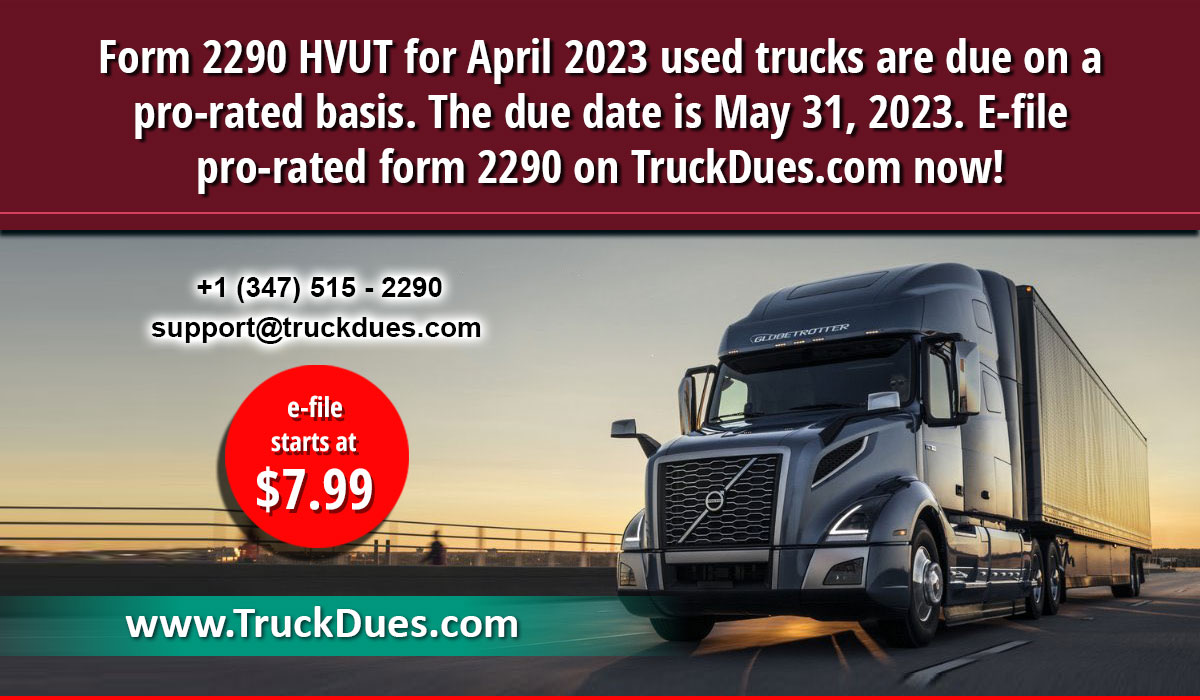 Pro-rated taxes are estimated by the vehicle's first used month.
Pro-rated taxes are charged for newly purchased vehicles, and those first used away from the usual tax period, July to June. Truckers are entitled to pro-rated truck taxes when they use their vehicle any other month than July. Therefore, they must only report and pay the truck taxes for the months they use their trucks on public highways. Pro-rated Form 2290 is calculated from the first used month of the truck. In this case, you should estimate your taxes from April to June 2023. As per IRS regulations, pro-rated or partial period truck taxes are estimated from the truck's first used month till the end of the ongoing tax period. And the last date to report the pro-rated truck taxes is the end of the following month of the first used month.
E-file form 2290 taxes for April 2023 on TruckDues.com!
IRS made form 2290 online e-filing mandatory for truckers filing HVUT for twenty-five heavy vehicles and more. Also, they encourage owners and filers with a single heavy vehicle to e-file form 2290 online through an IRS-authorized service provider. TruckDues.com is an IRS – approved modernized form 2290 e-filing service provider. You can get an accurate and smooth e-filing process to save time and money. You can prepare your Form 2290 truck tax reports, transmit them to the IRS, pay your tax dues online through all IRS-approved electronic payment methods, and get the digitally watermarked Schedule 1 receipt to your email. Form 2290 e-filing service charges at TruckDues.com starts at just $7.99 for a single-vehicle return. You can also use our free tax calculator feature to estimate your pro-rated 2290 tax returns and payments. For more queries, contact our customer support team at (347) – 515 – 2290. Our executives are available from 8 AM to 6 PM EST on all working days. They will respond immediately and sort out all your Form 2290 and tax e-filing-related queries within no time. You can also write to us at support@truckdues.com.