Attention Truckers! The new tax season is coming up in a few weeks. You have to get ready to prepare your Form 2290 HVUT and report them to the IRS once they accept Form 2290 reports when the new tax season begins. The new tax season will start on July 1, 2023, and the IRS starts to accept Form 2290 returns around the first week of July. All truckers and trucking taxpayers must report Form 2290 taxes and get the IRS Schedule 1 receipt to avoid IRS actions and continue their trucking operations smoothly.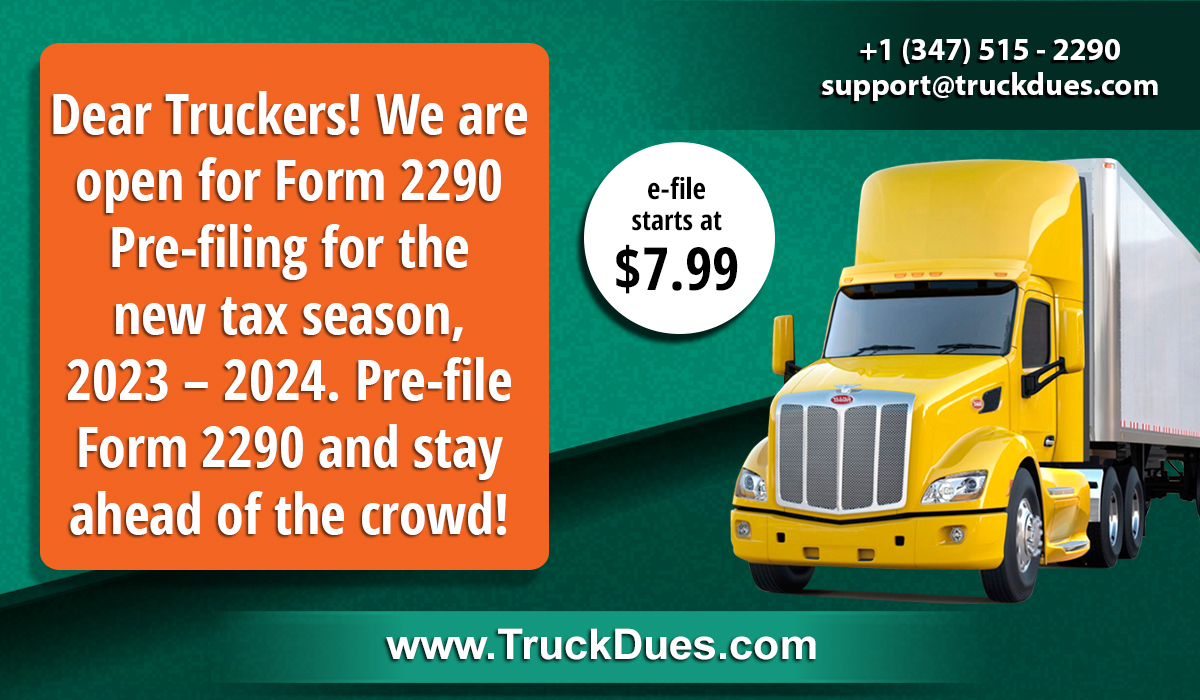 TruckDues.com is open for Form 2290 pre-file.
At the beginning of the tax season, IRS will be flooded with Form 2290 reports, and it takes longer than usual to process all Form 2290 returns. To overcome this situation, TruckDues.com accepts Form 2290 pre-file, allowing you to e-file Form 2290 with us before the tax season. We will hold it on your behalf and send it to the IRS when the tax season begins. Your Form 2290 reports will be among the first to reach the IRS for processing, and you will get the Form 2290 Schedule 1 receipt at the beginning of the tax season itself. Form 2290 pre-file allows you to stay ahead of the crowd and gives you more time to prepare your tax returns accurately.
Choose pre-filing method to report Form 2290 on time.
As the last date to report Form 2290 HVUT is August 31, 2023, you will get just a few weeks to report your truck taxes. IRS is very strict about the deadlines. Therefore, you should not miss the deadlines. Else, IRS will charge you late fees, penalties, and interests over your tax dues. It is impossible for you to operate your trucks without a valid Schedule 1 receipt. Therefore, use this early bird offer to pre-file your Form 2290 tax returns on TruckDues.com and lift the burden off your shoulders. We will transmit your Form 2290 tax reports on time, and you will get your Schedule 1 receipt on time.
Pre-file Form 2290 on TruckDues.com today!
You can register for free on TruckDues.com today and begin your Form 2290 pre-filing for the upcoming TY 2023 – 2024. You easily pre-file Form 2290 online on TruckDues.com by choosing the upcoming tax season in the menu, and prepare your tax reports by following the simple steps in our platform. You will get your IRS digitally stamped/watermarked Schedule 1 copy directly to your registered email as soon as the IRS processes your Form 2290 tax returns. Pre-filing form 2290 online starts at $7.99 per return. Contact our customer support at 347 – 515 – 2290 for further assistance.