The Heavy Truck Tax Form 2290 is now due for the tax year July 2021 through June 2022, this August 31, 2021 is the due date for Truck Taxpayers to complete this filing and pay the taxes. The IRS encourages every truck taxpayers to choose electronic filing, TruckDues is the IRS authorized efile provider and top rated by Owner  Operators. Only efiling can assure you the IRS stamped schedule 1 receipt copy instantly. Our super star support team is available through the week from 8:00 AM to 8:00PM Central Time on all the days Monday to Sunday to help you through your 2290 efiling.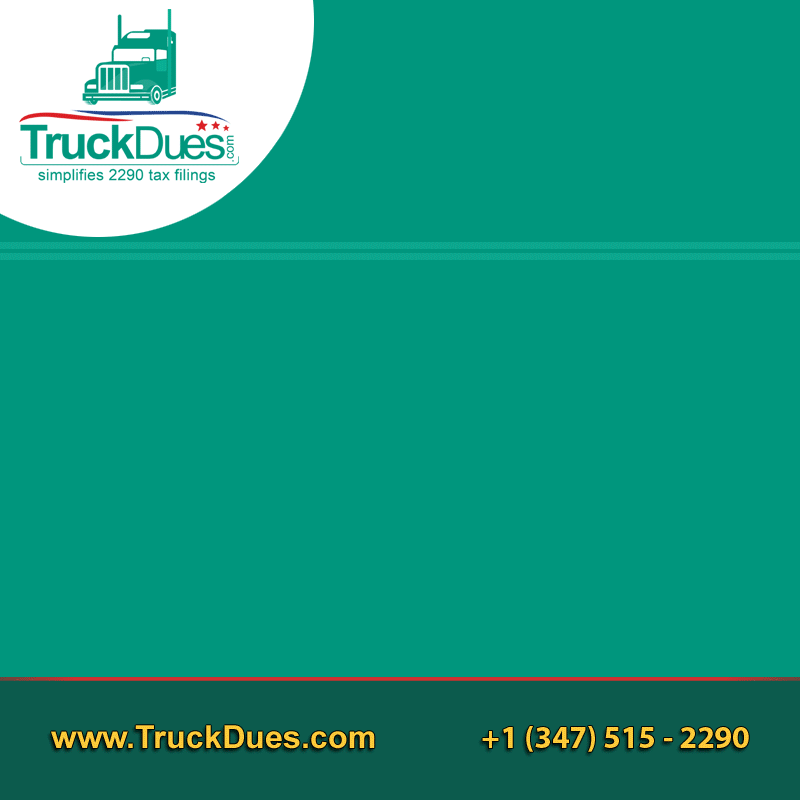 Pocket Friendly Form 2290 Truck Tax eFiling:
When we say that Federal Vehicle Use Taxes cost less than $8, and we live by it totally. There is no additional cost or any hidden fee to prepare your tax return. You may try and file your Federal Heavy Highway Vehicle Use Taxes anytime from anywhere. Our software works round the clock, all you needed is a device and internet to start and complete your truck tax returns in minutes – if you are happy, you can pay just $7.99 to file or Print your single vehicle return. Transparent & standard pricing policy is followed irrespective of the cards used by the taxpayer. Receive the IRS stamped Schedule 1 proof instantly without any guess work.
Simple and Honest Pricing = TruckDues.com 
Making 2290 E-file Easier and Simpler:
You no longer need to waste paper or time printing, assembling, and sending your returns, and the Government Tax Agencies no longer needs to spend time manually entering your paper returns into their electronic databases.
It may be hard to trust an electronic submission system after years of filing and keeping records on paper. So TruckDues has custom made a robust system that makes preparing, editing, and submitting your HVUT electronic submissions seamless and quick. The engine thoroughly validates your return before filing to ensure that your return will be accepted without any issue.
E-filing also allows you to track, record, and review all your returns at every step of the 2290 filing process. You get enough time to think and rethink about your tax and submit your return when you are really ready- literally anytime, anywhere. It's certainly the best possible way to file your returns efficiently and with total peace of mind.
Filing your returns electronically is a lot easier than said!
VIN Correction to correct your Schedule 1 typos is absolutely free! when the original 2290 taxes are reported through TruckDues.com; VIN Correction online is fast and receive your corrected Schedule 1 receipt instantly. Talk to us and get your typos corrected now!!!!

We recognize the importance of ensuring the security of all information provided by you and we hold your security as our highest priority. All your sensitive personal and financial data, is stored in secure databases and all SQL communications are encrypted duly. TruckDues is further secured using a Secure Socket Layer (SSL). We maintain strict safety standards and protect every single record against interception or interruption by any third party. Your data is handled only by authorized TruckDues employees trained in proper handling of sensitive customer information.
You don't have to worry about stacking up your tax records as we facilitate you by preserving your records for future reference. Data is securely mirrored to a protected offsite Disaster Recovery site so that data can be recovered and service can be restored at an offsite location in the event of a disaster. Our web servers are load balanced and are protected by a fire suppression system to ensure best backup for all your data.
Form 2290 Due Date Reminder:
This year the IRS Tax Form 2290 has to be reported for all the heavy trucks that is used in July 2021 for the first time by August 31, 2021. The pro rated or partial period 2290 taxes can be reported in the following months according to your first used months. At TruckDues, we really try to make you as comfortable as you can be! when you efile your 2290 taxes, we also assure  you that the IRS stamped Schedule 1 receipt is shared to your instantly it is accepted and issued by the IRS. It just takes few minutes to receive it when you report it earlier in the month, the processing queue heaps up with close deadlines.
2290 Phone Call Support:
TruckDues has a well trained Super Stars to handle your questions and if needed walk you through the screens step – by – step to make sure you get it right. The live chat support agent can guide you virtually, please note it is not a bot that your connected with. We also respond to the emails at the earliest and help you complete your 2290 returns on-time. Why waiting? talk to us at 347 – 515 – 2290 or also dial our toll free at 855 – 615 – 1040; write to us at support@truckdues.com.
Happy Filing and Happy Trucking.